Beer Caps Canvas
Total cost of Project: Under $5.00 (not including beer caps)
If you have a wide variety of beer caps and are not sure what to do with them, why not make it into art? My Husband and I enjoy drinking beer, over the years we have become more or less "beer snobs" we enjoy drinking the crafty beers. After trying to figure out what to do with them, I thought I wonder how they would look on a small canvas. Since my husband loves beer I thought the beer caps art would be an awesome addition to his office.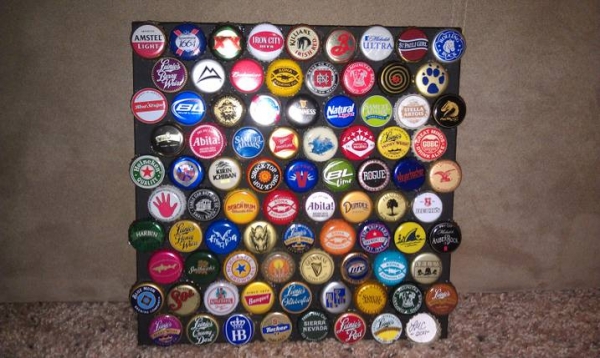 Materials:
10 x 10 canvas
Black acrylic paint (or any other color you might like)
Beer caps (non-dented)
Hot glue gun & glue
Directions:
Wash all beer caps and let them dry, you do not want the smell of old beer lingering on your walls.
Paint your canvas any color that you want, I chose the color black because when the beer caps were placed on the canvas they popped out at you.
Lay a row out of beer caps, you want make sure they all fit before you ahead and glue them down.
Once you know they are all going to fit start gluing them down.