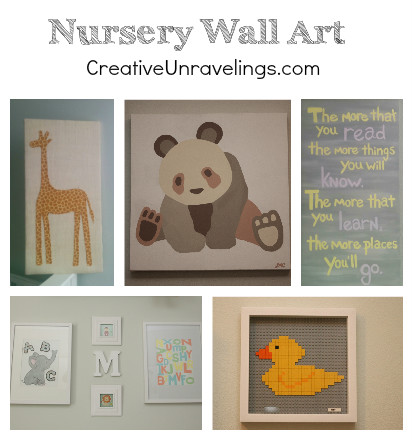 Since we are not finding out the sex of the baby we decided it was best to go with something gender neutral for the nursery. Most of you know I love pandas! This was the perfect opportunity to incorporate pandas into the mix. I did not want to go black and white theme and base it just on the pandas, so I thought why not make it jungle themed/ABC themed. That way I am not limited to just buying panda items. My goal is to keep the nursery colors fairly light and pastel-like. That is just always how I envisioned our child's nursery to be.
There are really no instructions that I can give for painting, I just go with it. I do always have to sketch, so I sketched out my first panda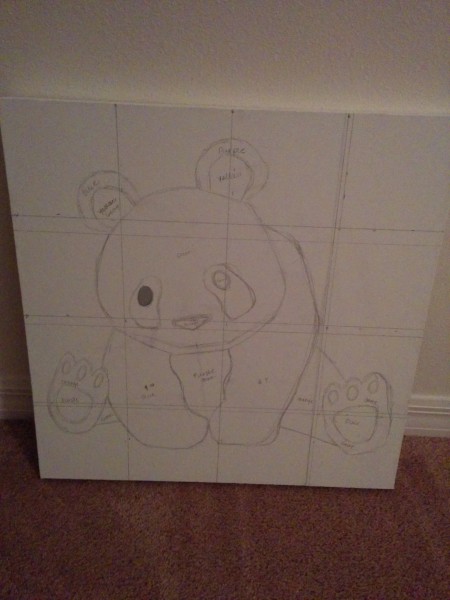 Now comes the painting, again this is not the finished colors. I went through a handful of colors before decided on the final colors.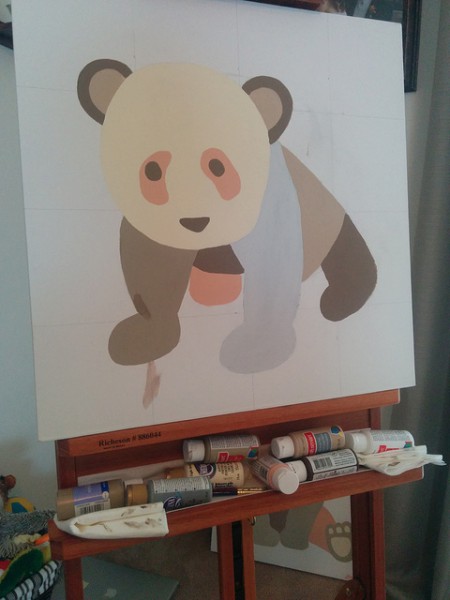 Here are the finished products! And a preview to my giraffe wall piece. Stay tuned to for the giraffe post!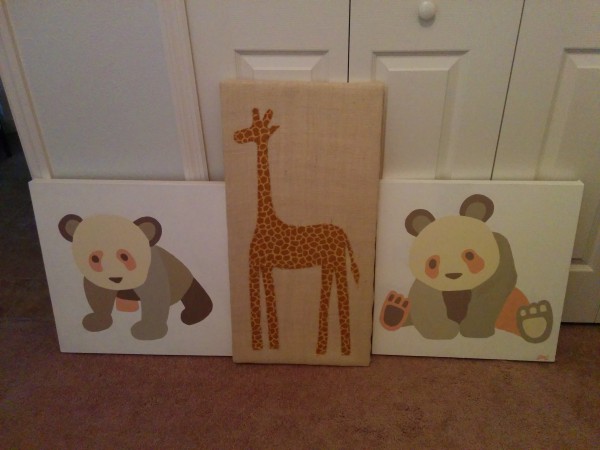 Lego Rubber Duck Mosaic:
This was my husband's project and I think he did an excellent job! Its teh perfect touch to the nursery. Check out his website and how he recreated it, just click the link below!
Elephant Artwork
I randomly came up with this idea. I am trying to stick with jungle animal themed nursery. Right now all I have are pandas & giraffe's. This project was super easy to do (if you like drawing) I started off with pulling an elephant image from pinterest. My original idea was to fill in the elephant with colored pencils, but would you believe in my art set there was no "gray" pencil to be found! I tried blending colors and it just was not looking right. That is when I turned to my oil pastels. It came out so perfect! I had not used oil pastels in years, I felt like a student in art class all over again!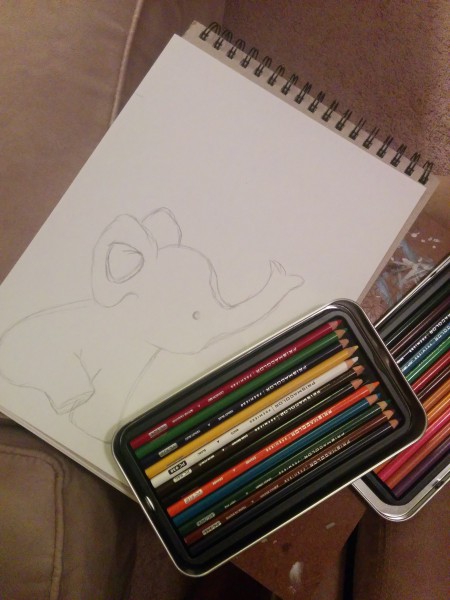 Elephant drawing with oil pastels (not completed yet)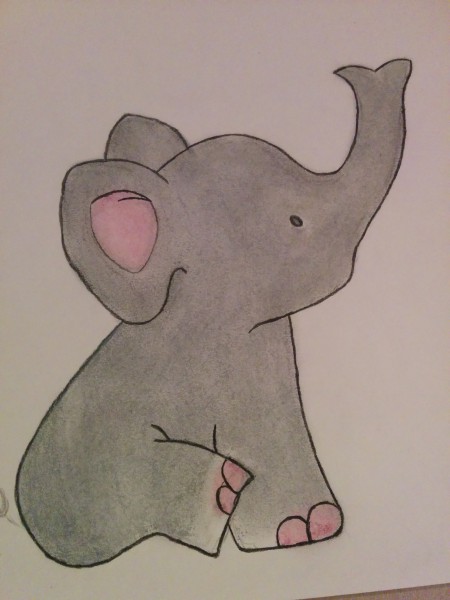 I decided to add some ABC's to the art. I love seeing different forms of art in one piece. I used some fabric that I found in the baby section. It is pretty gender neutral. This fabric will later be used for a cradle sheet that I will be sewing. I traced some wooden letters which I had on hand. They were the perfect size for this particular piece.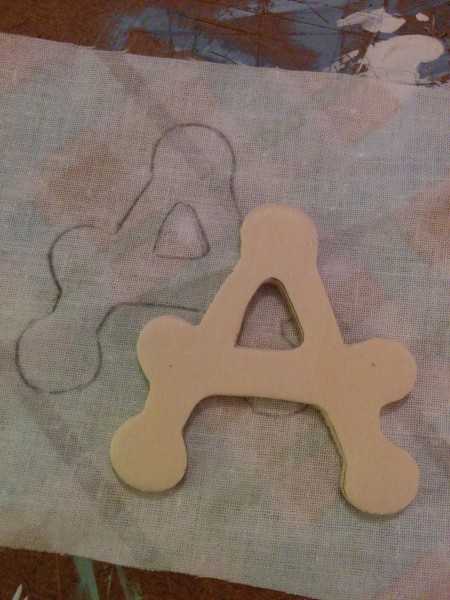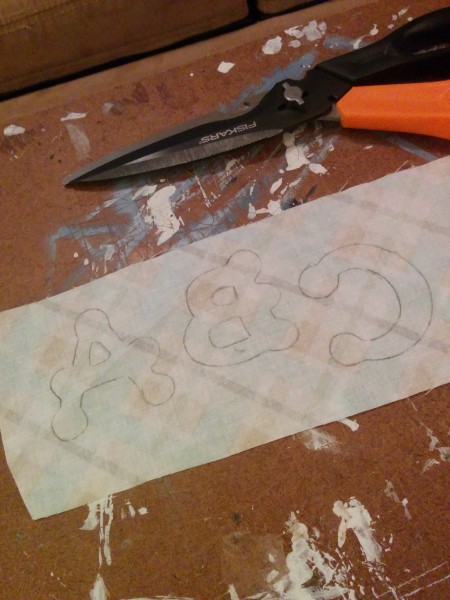 The fabric ABC's were so light on the drawing paper I needed a little something to help it pop. So I used some brown felt. I think they go pretty well together.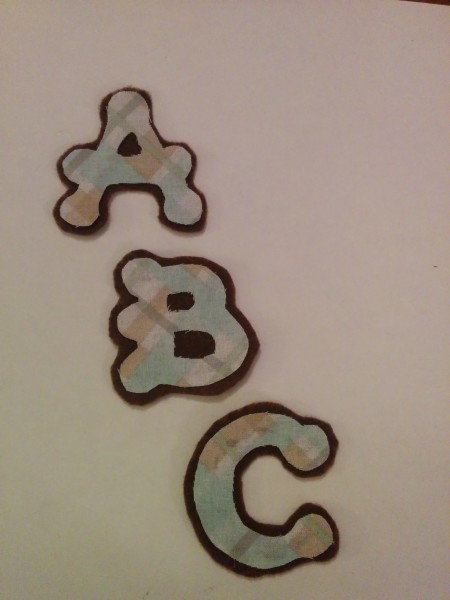 And the finished product! I am in love! I am going to work on a few more small drawings/sayings for the wall. I purchased this frame from Ikea. It was only $6.00 and it looks really nice on our sage colored nursery wall.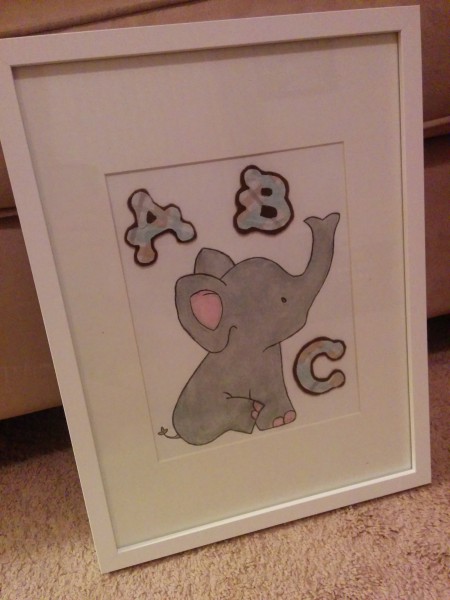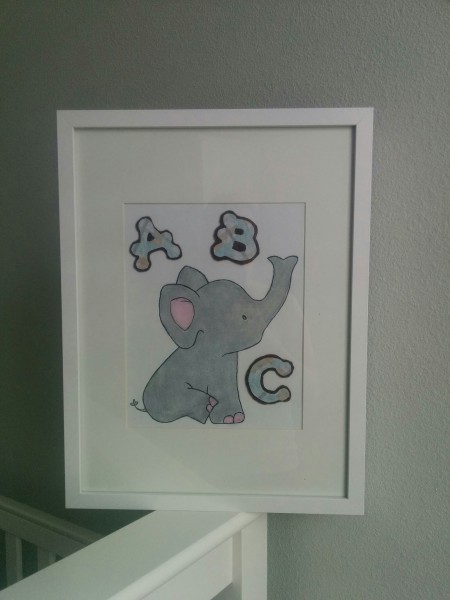 Dr. Seuss Wall Art:
I found a really cute Dr. Seuss saying on pintrest. Of course I decided to recreate it! The colors were a little too bold for our nursery. So I decided to go more with pastel colors. I think they they tie in perfectly! Sorry for the dark pictures!
Since our child's bedding is alphabet related, I thought it would be nice to incorporate more alphabet into the nursery. I came up with this idea of compiling random alphabet letters in an 8 x 10 frame. It took me about 3 hours to do. I first stenciled the basic outline of the letters and then painted them the way I wanted to fill them in a little more. Here is how it turned out.
**Picture coming soon**
Jungle Animal Frames:
I needed a little added touch of something above the dresser. I found these old frames in our attic (its great when you find stuff in the attic that eventually comes in handy) I had the idea of going to my local craft store and buying Jungle animal themed scrapbook stickers. I am sure this idea is on pinterest but this is something I threw together in 30 minutes!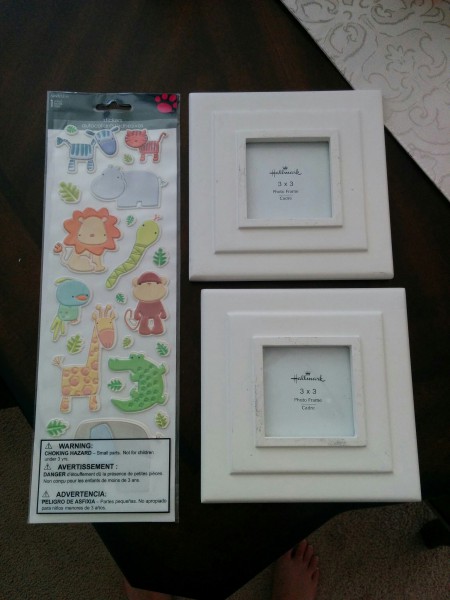 I cut out the backing for the frame on a thicker piece of board (I am painting these small boards so I needed something that would with hold the paint and not bubble.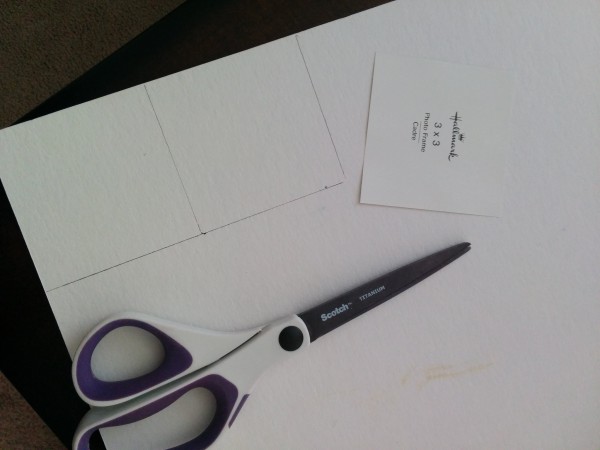 Then I painted the boards a pale green, so match our nursery theme and also make it so that the animals pop out.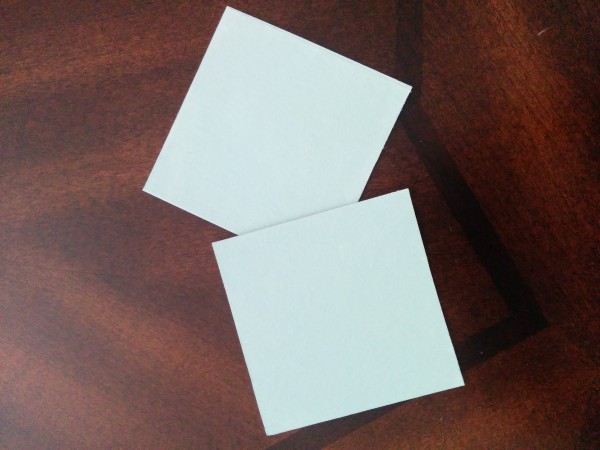 Then I stuck the stickers on the small painted boards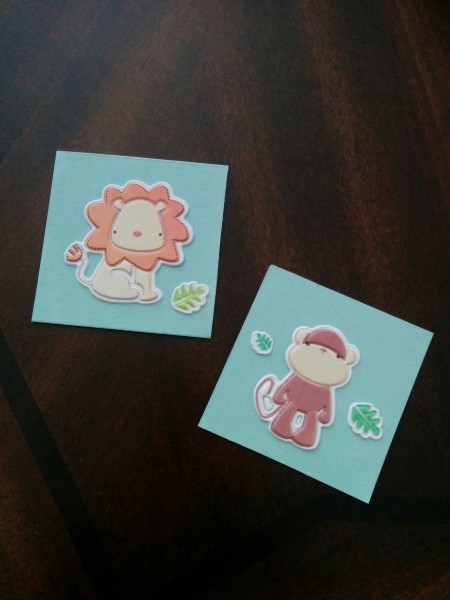 Then I put them into the frames! 30 minutes later a really cute creative project was completed!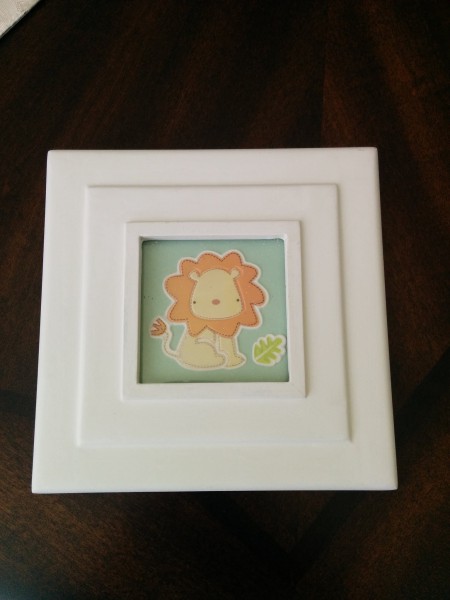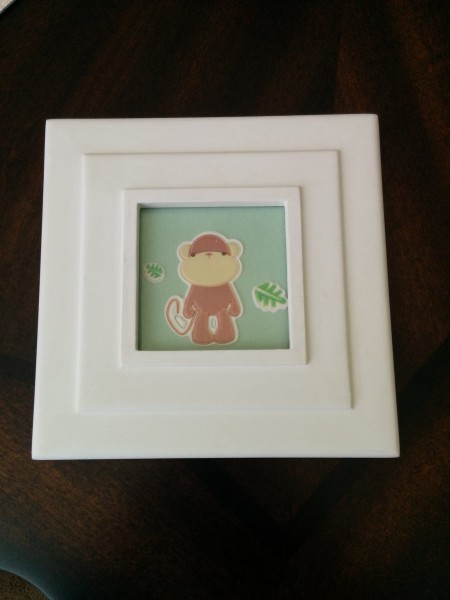 Here is the finished product on the wall