Hello Fall!
Its about time, we hope you bring some cooler weather because this summer was just way too hot!
I created a Fall bucket list for our family, we always seem to check off everything on this list, but now with a baby and mommy brain, I thought by "actually creating the list" it would keep us on track.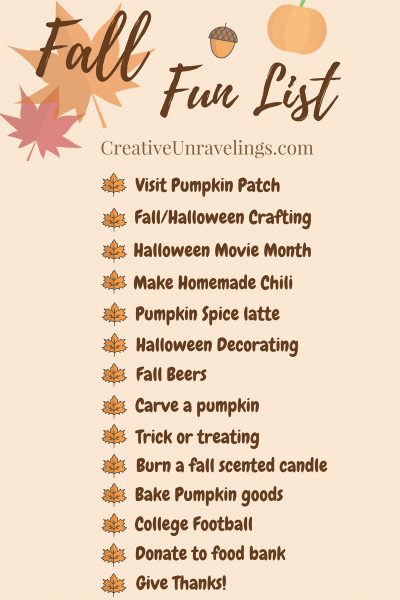 You can download your own Fall Fun List
We look forward to fall every year, its even more awesome that we have our little girl now to celebrate in our fall festivities. Here are some of our favorite things that come out of fall:
College Football (Saturday's are just dedicated to college football-its something that we both enjoy and look forward to)
Fall beers - ("Pumking" is my favorite fall beer and with a little touch of brown sugar/cinnamon on the rim of the glass, its simply the best!)
Pumpkin bread- I cannot wait to make my homemade pumpkin bread and anything else pumpkin I decide to make. Also going to try my pumpkin cheese rolls!
Halloween Movie Month (A tradition we started about 10 years ago- this time I added in some kid friendly movies for the little one)
Pumpkin spice latte
Pumpkin patch picking with the little one (Super excited about this one, last year our little one was too little, and being first time parents, we did not feel comfortable taking her to a patch where there would be tons of people and germs at just 2 weeks old.)
Carve a pumpkin (Daddy usually does this)
Fall/Halloween crafting (I am making the little one Halloween hair bows)
College apparel. I always wear my college t-shirt and apparel on Fridays. Being that I have off on Friday, this year I have moved the trend to Thursdays. So both the little one and I are decked out in college apparel on Thursday.
Decorating for Halloween, I cannot wait to decorate with our little one! I remember decorating as a wee one and just looked forward to it every year. This also includes putting out the scarecrow in the front yard. When we went up north a few years ago, it was the "thing" to have a scarecrow scene outside your home. It was pretty sweet!
Trick or treating
Burn fall scented candle (Yankee Candle- Autumn Wreath is my favorite!)
Donating to your local food bank is a really nice gesture, people tend to donate around the holidays which is great, but its also a nice gesture to donate during the year as well.
Give THANKS! We are SO BLESSED and we have so much to be thankful for!
Halloween Movie Month is approaching...
When we visited California last year, we took a tour of the Hollywood Museum. Here in the museum was the Top 40 Horror films. A lot of these films are classic films. We have seen about half of the films listed here.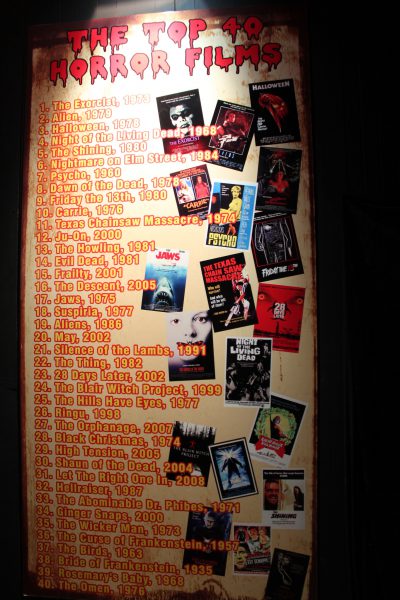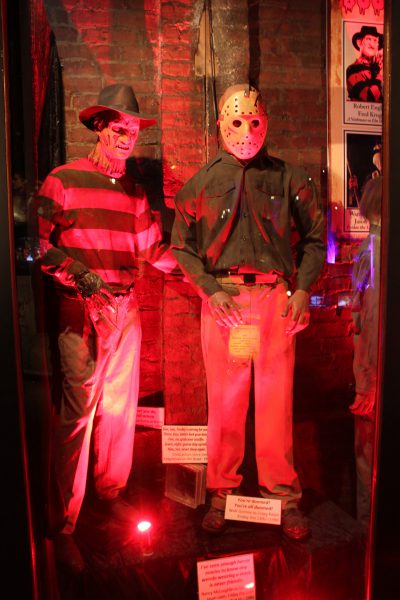 Here are some comical rules of horror movies: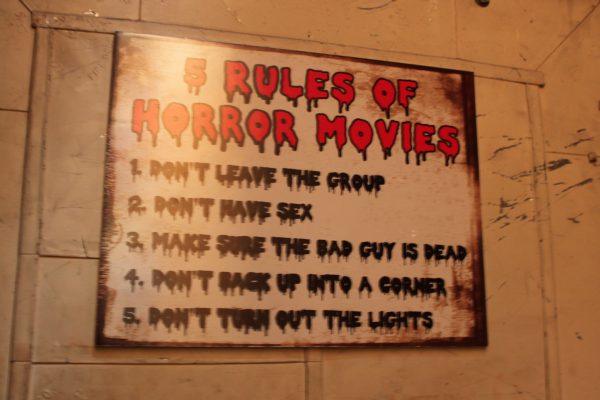 Here is our Halloween Movie Month line up. I usually do a little more research on what movies would interest us, but this year I totally slacked off. So, I incorporated some movies from last year (that we were never able to watch because I had my little girl) along with some favorites and a few we have not seen yet. It works for us!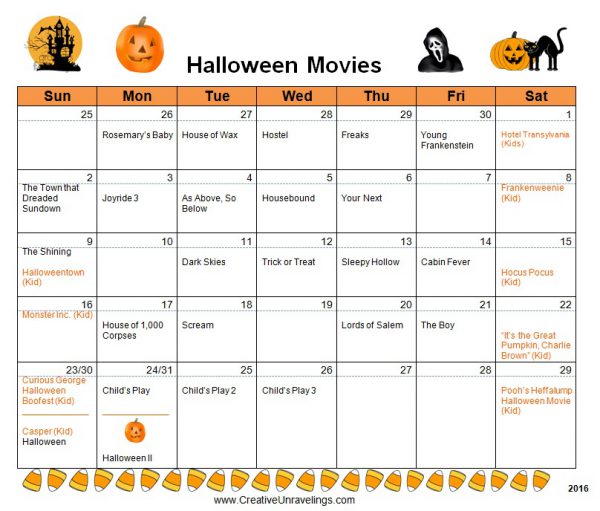 If you want to download my Halloween movie list- you can download here for free.
If you would like to download a blank template to fill in your own movies- you can download it here for free.
A little different from years past, this year  we decided to incorporate some children friendly halloween-like movies for our little girl. Nothing scary, just wanted to start adding kid friendly movies into the mix. Also I leave Saturdays and some Friday nights open, that is when we watch college football or if we decided to go to a game. If you are looking for some college football crafts check out my door wreath and my outdoor directional sign. If you are looking for some fall projects, check out my Garden flag and Halloween accent pillow.
Have a fabulous fall y'all!!