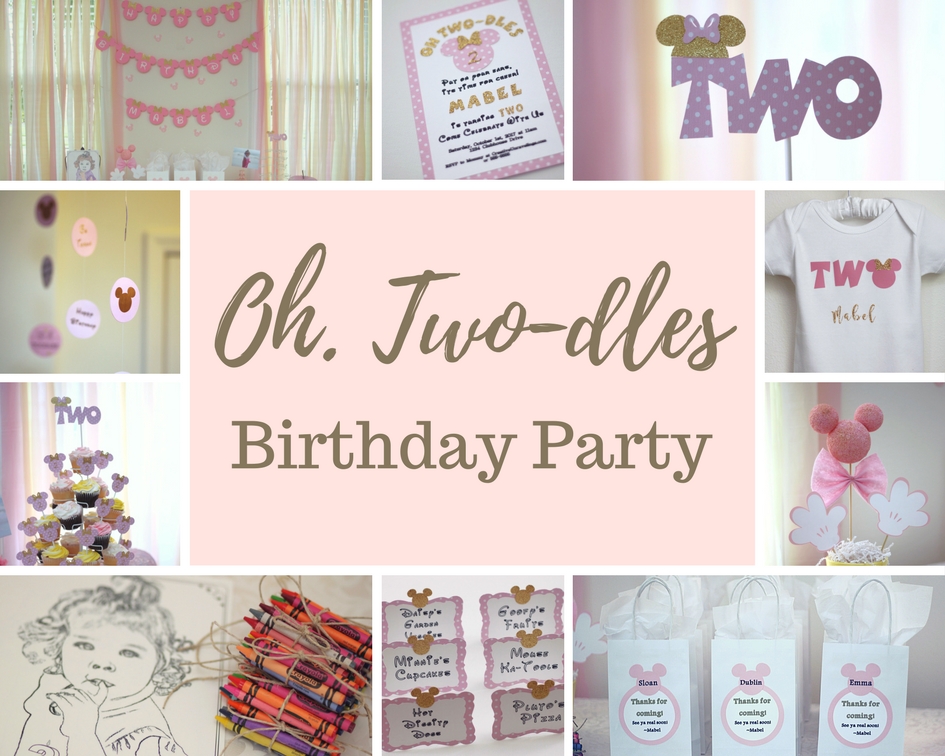 Well, I cannot believe my little girl is 2! I never thought I would enjoy planning her birthday parties, but I just love it! Especially now since I own my very own Cricut! There is so many things that I see online that I just fall in love with but know that I could save a little money and make it on my own.
Last year I shared with you my daughter's birthday party, the theme was "Little Pumpkin." I loved it and it was perfect for an October birthday. You can check out all the details on her first birthday at "Little Pumpkin First Birthday."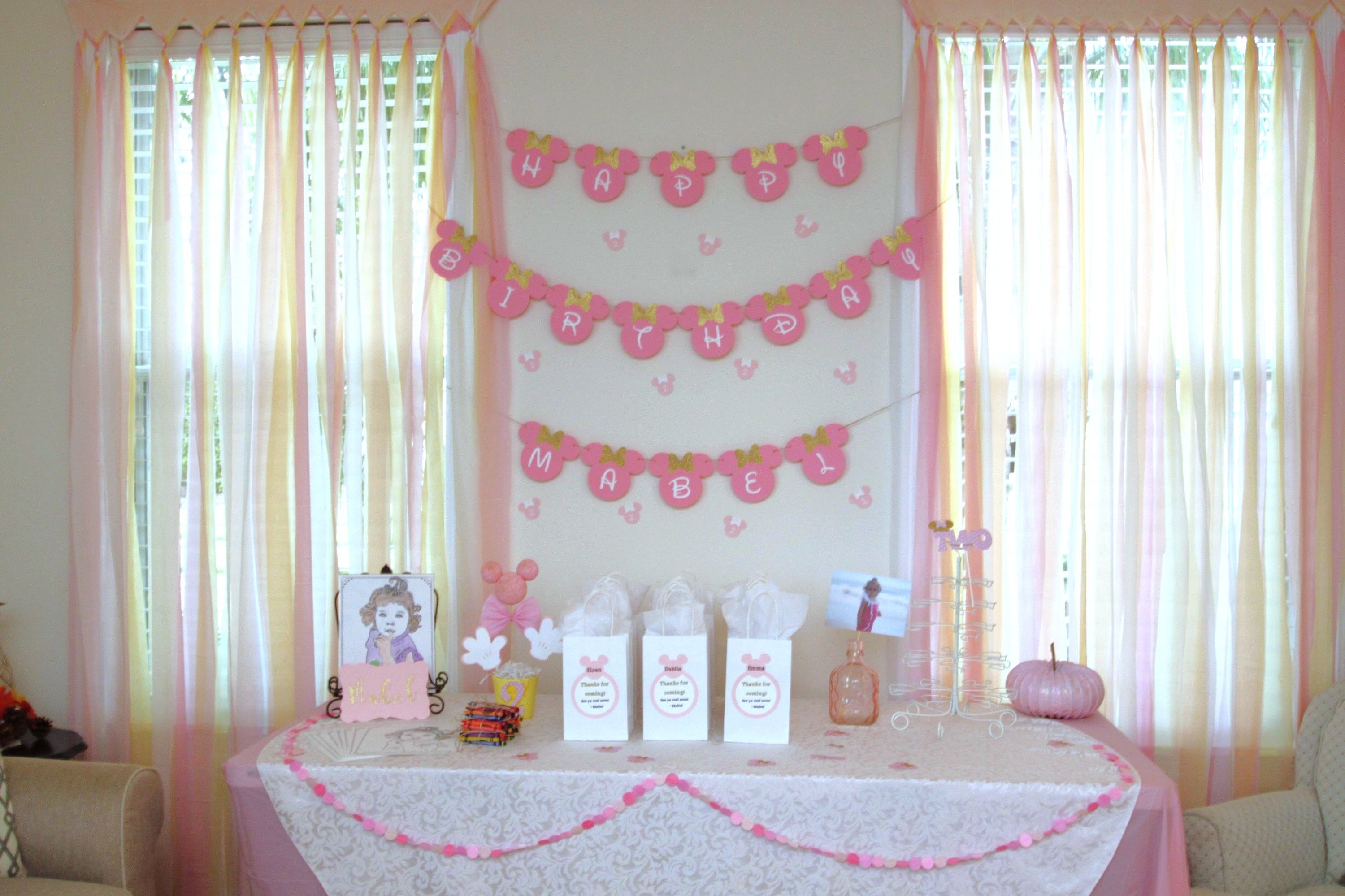 So lets talk about this year's party...
Theme: "Oh, Two-dles!", how I love hearing Mickey's voice at all hours of the day. My little one will come running from anywhere in the house to hear the theme song of Mickey Mouse Clubhouse play. She dances and she sings the key words in the songs. We especially love hearing the hot dog song...over and over. Yes, it is quite catchy. So when I was thinking about what theme to go with for her 2nd birthday, I thought for a while about it. I wanted to go with something that she was "into." She loves Mickey and Minnie! In fact she use to refer to Mickey as "hot dog" for the longest time, because of the song. So Mickey Mouse it was!
So I did some googling and came across "Oh two-dles" theme Minnie Mouse birthday, its simply adorable and you can gear your whole party around phrases from the show. I know the kids will just love this, after all what kid does not love Mickey Mouse?
Color Scheme: Instead of the traditional black and hot pink I wanted something a little different, something girly. So I chose pink and gold (just like my colors from my daughter's first birthday.) 
Birthday Invitation
So lets talk about the Birthday invitation. I actually had a completely different design that I wanted to go with. I was pressed for time and figured it was just too advanced for me to do on my Cricut. (Remember I only have about 7 months of Cricut experience!) I altered some things and came up with what I think was perfect! Everyone loved the invitations and couldn't believe that it was hand crafted. Here is another thing that you might not believe, it cost me $8.00 to make 22 invitations! I basically just paid for the custom card stock and I hit up Michaels at a perfect time, 50% off, plus an additional 25%! I purchased so much card stock I was able to make other custom decorations. I had to assemble them myself, and yes, it took some times. but with doing a little each night it wasn't so bad. If you are interested in making my same design you check out my tutorial on How to make "Oh, Two-dles" Birthday Invitation
On a scale of 1 to 10, with 10 being the most difficult. I would give this Cricut project at 7. These are probably more tedious than anything else.


Custom Birthday girl shirt
Last year I purchased a custom onesie from Etsy for my daughter's first birthday. It was adorable and the person was great to work with! Since I attempted many custom onesies this year (like the Valentines outfit and the First Trip to Magic Kingdom outfit and my friend's little one a new baby outfit ) I thought why not tackle the birthday outfit! I designed two different designs and then asked my blogger friends and hubby which design they liked best. I actually like the other design, but once I saw this design coming together I knew it was going to tie in perfectly at the party.
Weeks before the party, I searched for shorts to match this onesie. I was out of luck, which is quite odd because I could have gotten a real deal on shorts being that winter clothes were starting to appear in stores. I ended using some fabric from last years party which coordinated really well with the onesie. So I started sewing some shorts, long story short I did not have much fabric to work with and I made them too small. When I tried them on my daughter she was like "tight!" So at that point I was like okay, here I am trying to cram in making shorts the last weekend before the party, I need to just stop and have her wear something in her closet. The shorts actually coordinated really well and it all worked out!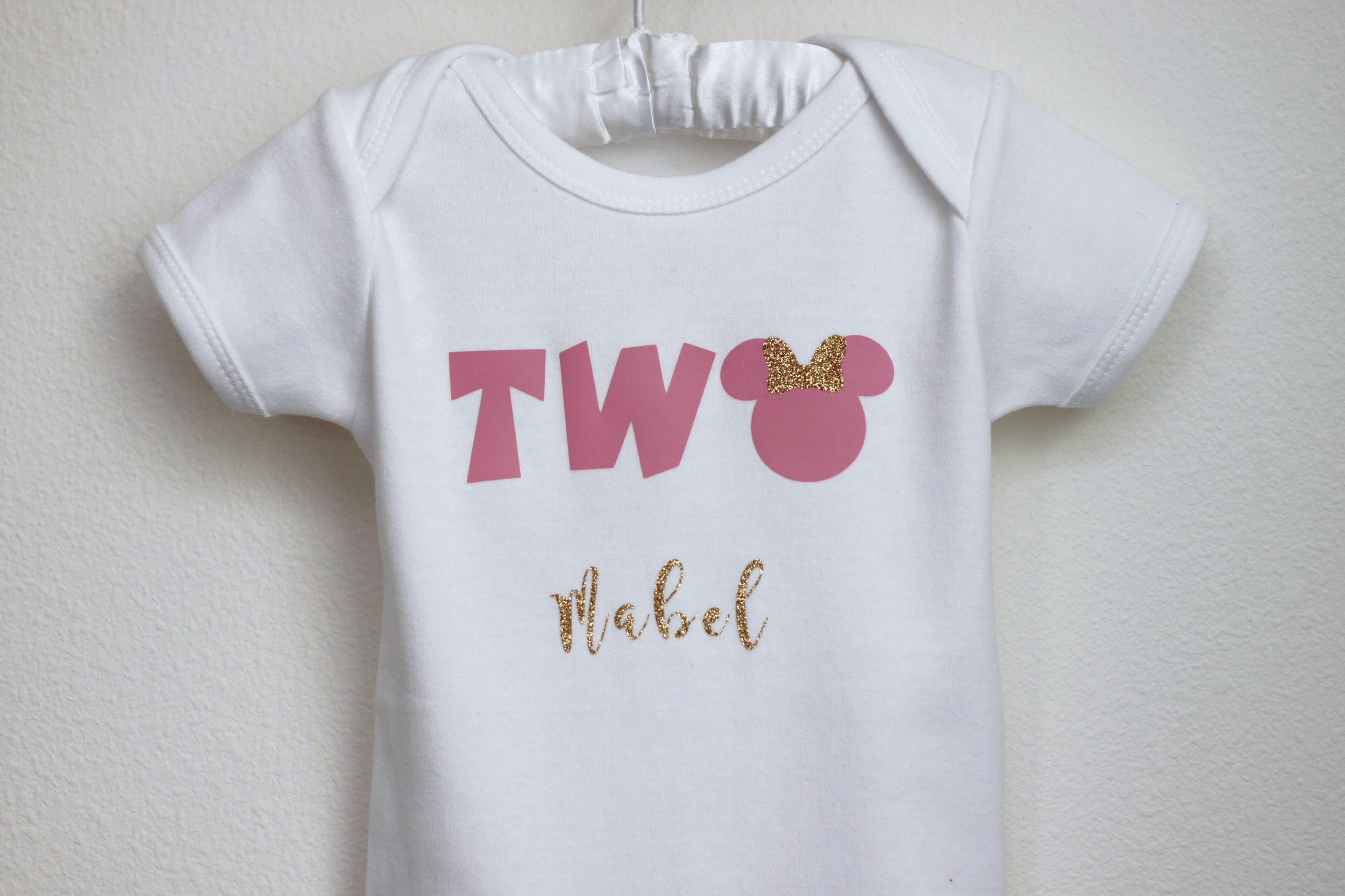 Happy Birthday Banner
I could not have a Mickey Mouse themed birthday party and not have a Mickey Mouse happy birthday banner to go along with it! This was super easy to make and I think the classic Disney font adds the perfect touch to the banner!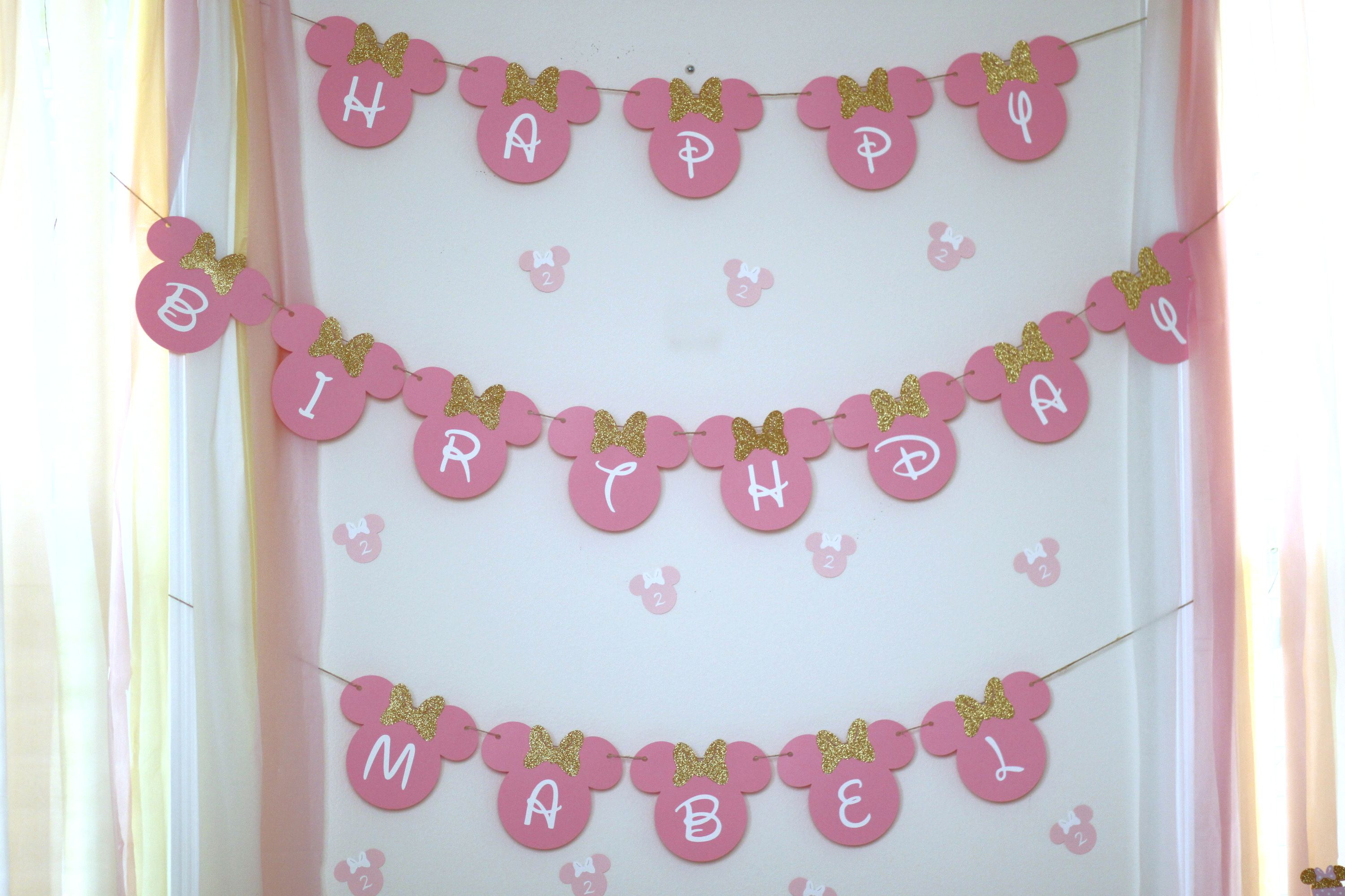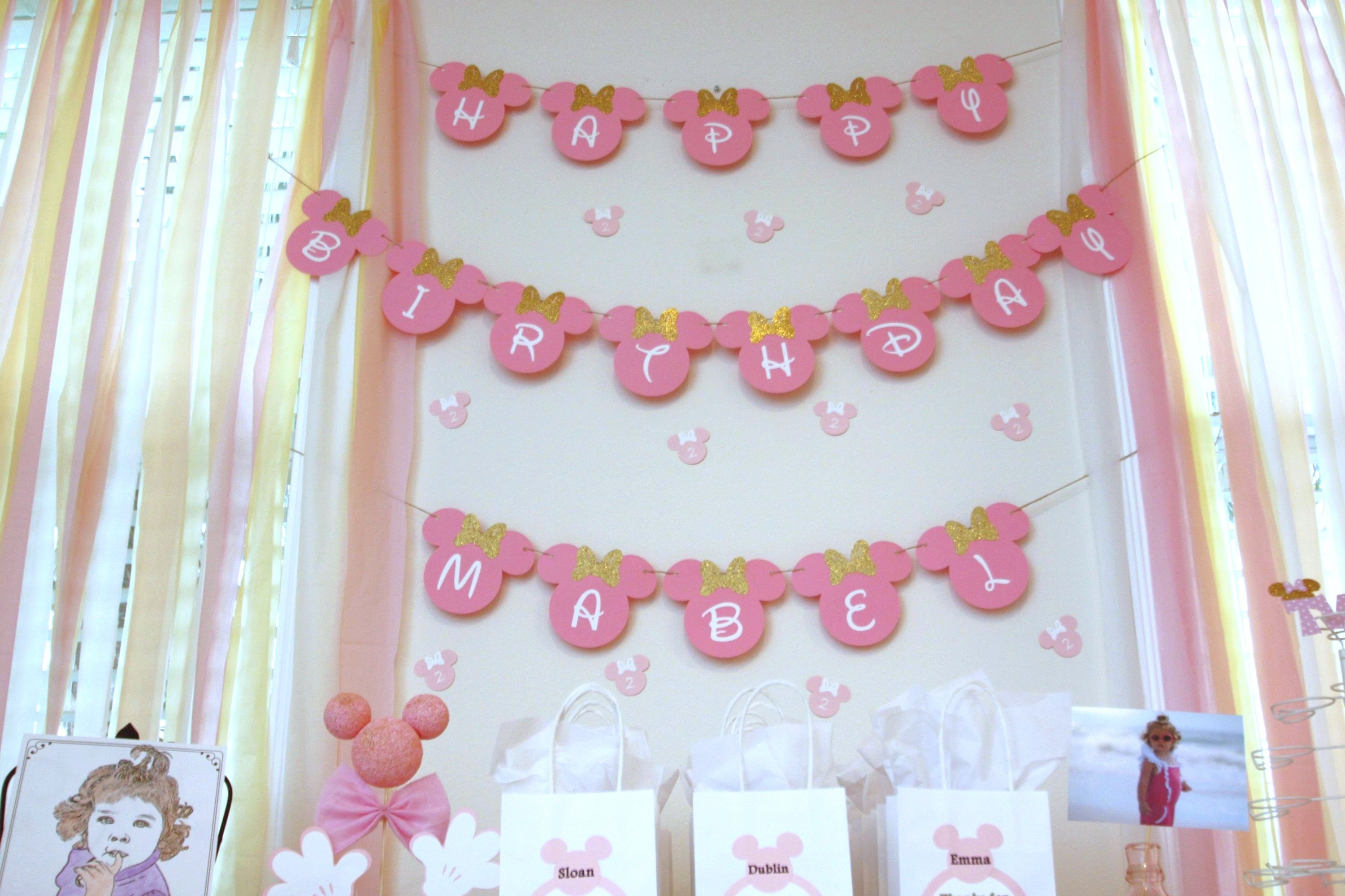 "Welcome to the Party" Door sign
Every party needs a welcome sign! Thanks to my Cricut it made this project a piece of cake!
Tutorial on  How to make Minnie Mouse "Welcome to the Party" door sign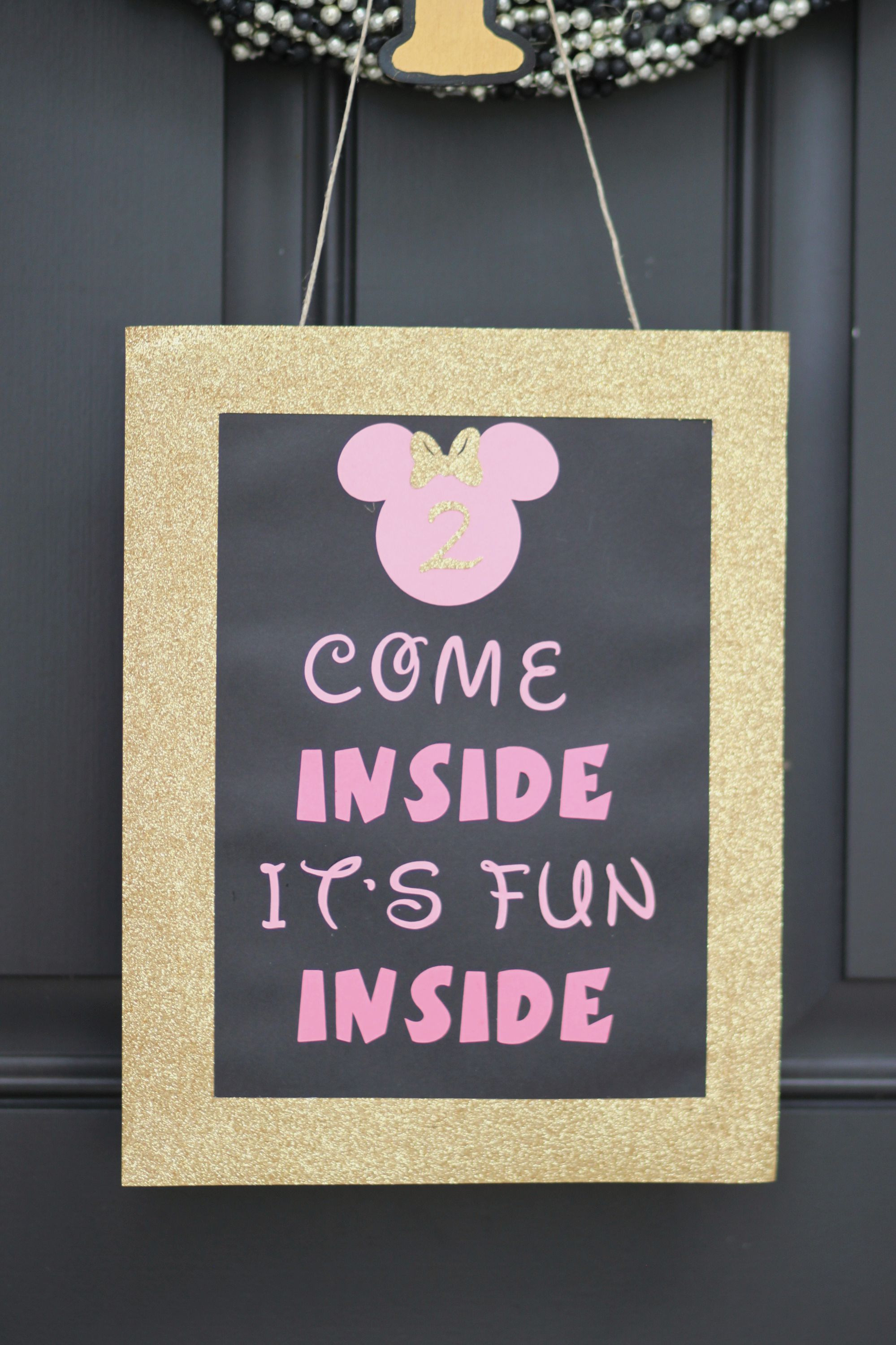 Decorative Birthday Garland
I stepped my Birthday garland up a notch this year! Last year I hand cut each piece! This year my Cricut did all the cutting and it turned out perfect!
Make sure you check out my tutorial on How to make "Oh, Two-dles" Birthday garland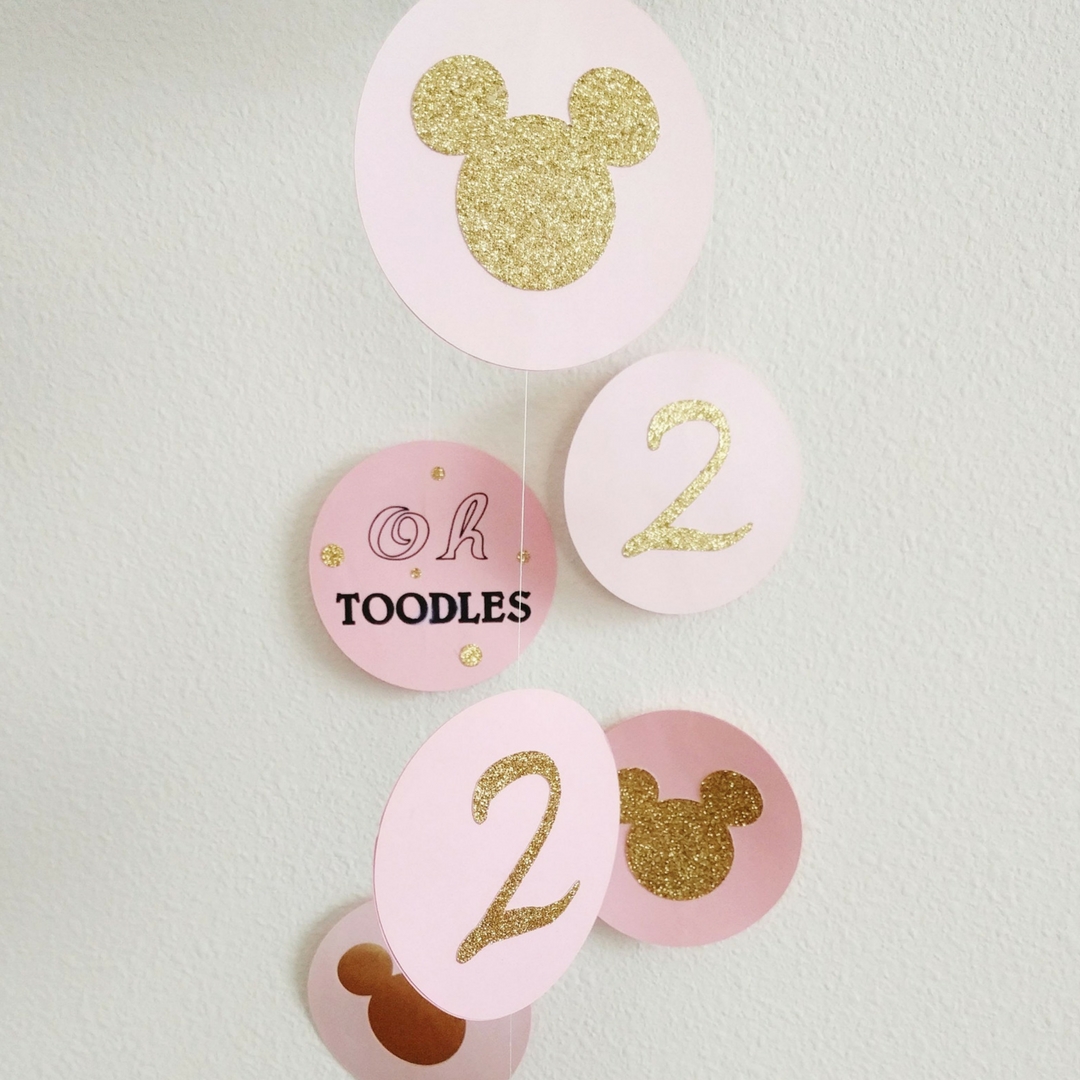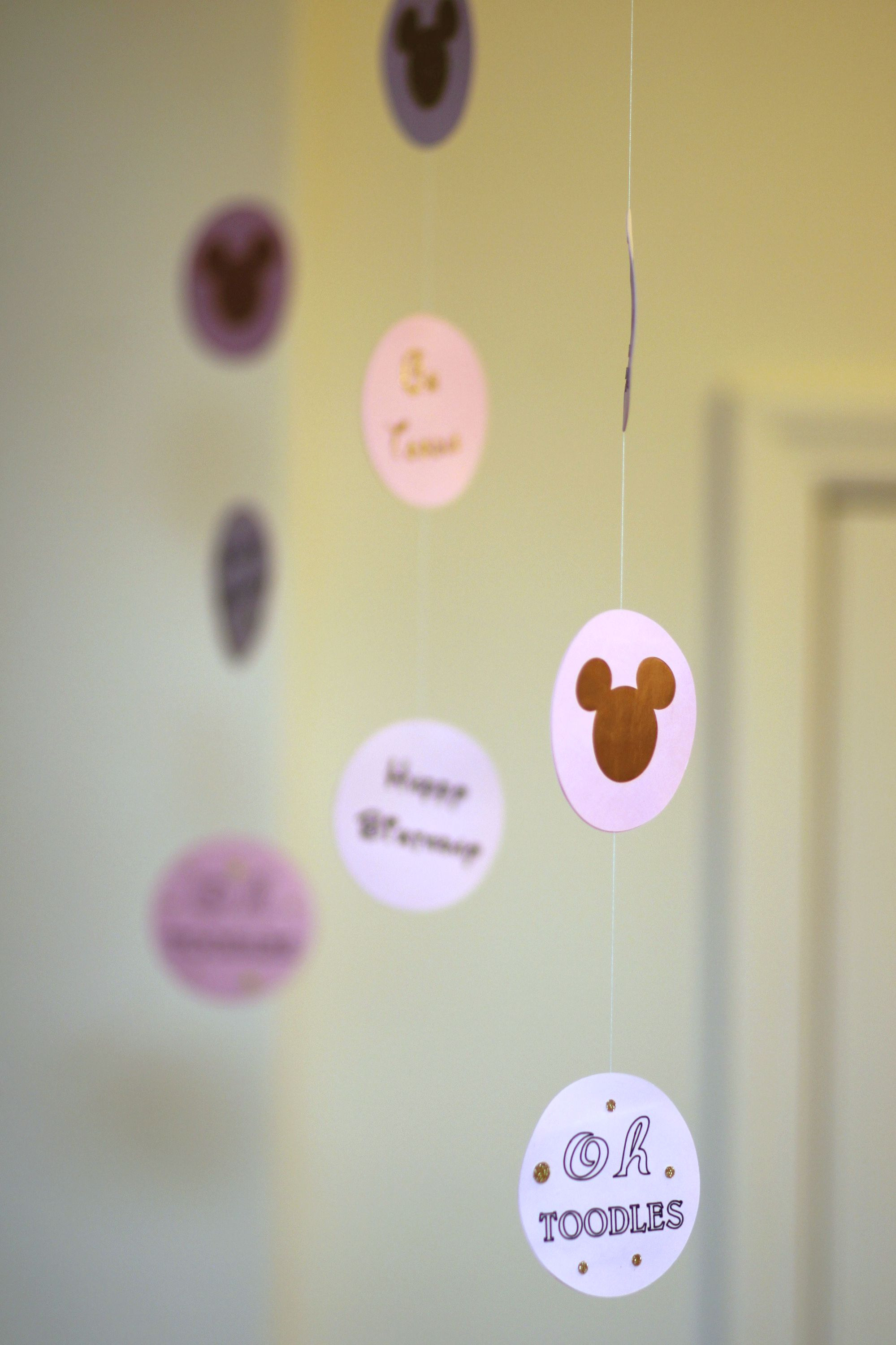 Cup Cake Toppers
We always go the cupcake route! And I always have fun coming up with the topper ideas. When I was designing the invitations I cut out small Mickey ears and added a gold glittery bow and the number "2" in gold. I used these on the invitations, but I just fell in love with the design and knew that I would be using them as the cup cake toppers! For my daughter's cup cake I came up with spelling the number "two" out. Then to incorporate Minnie into the mix, I cut her bow and the number "2" out on gold glitter card stock and it was the perfect touch!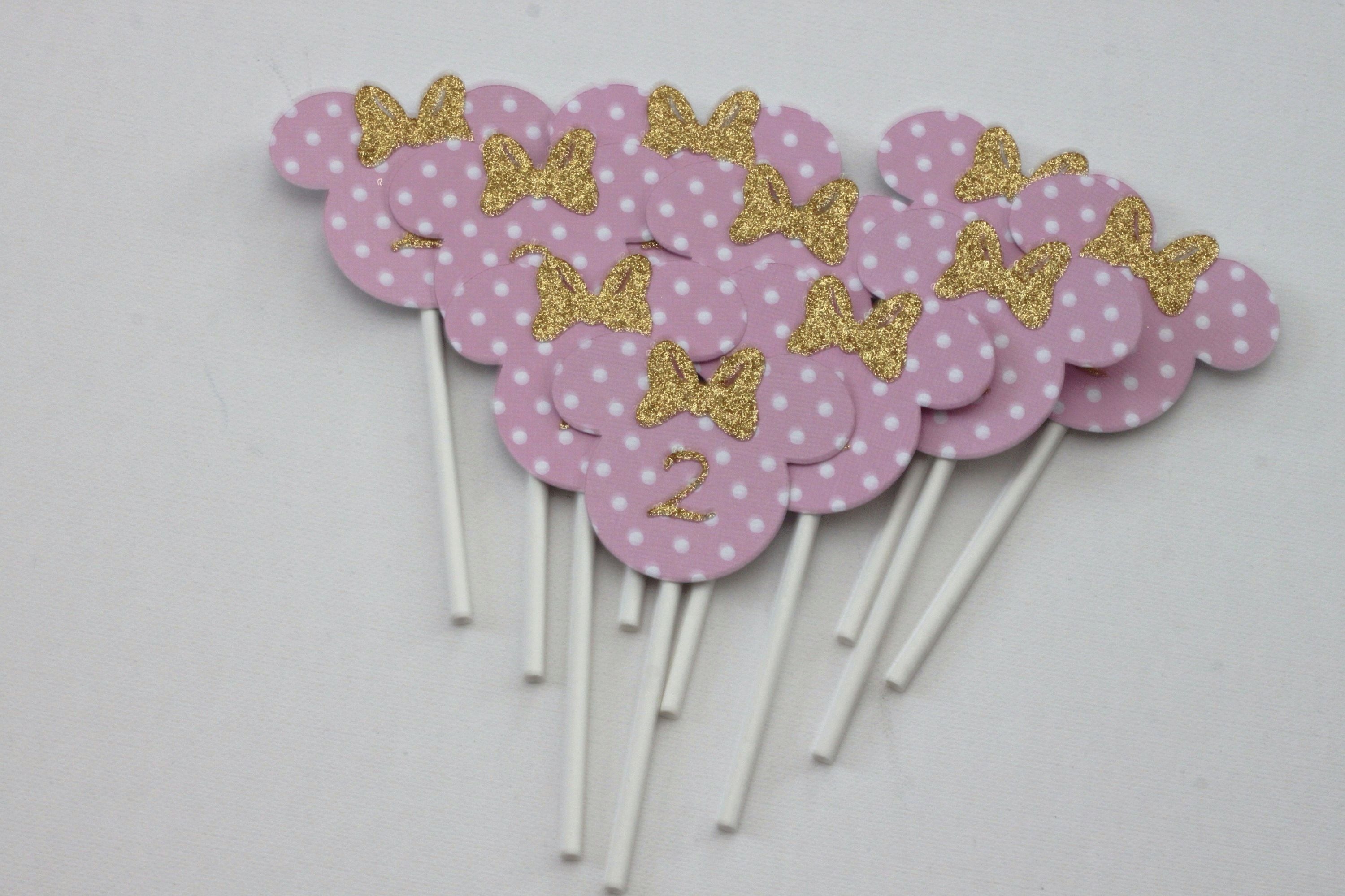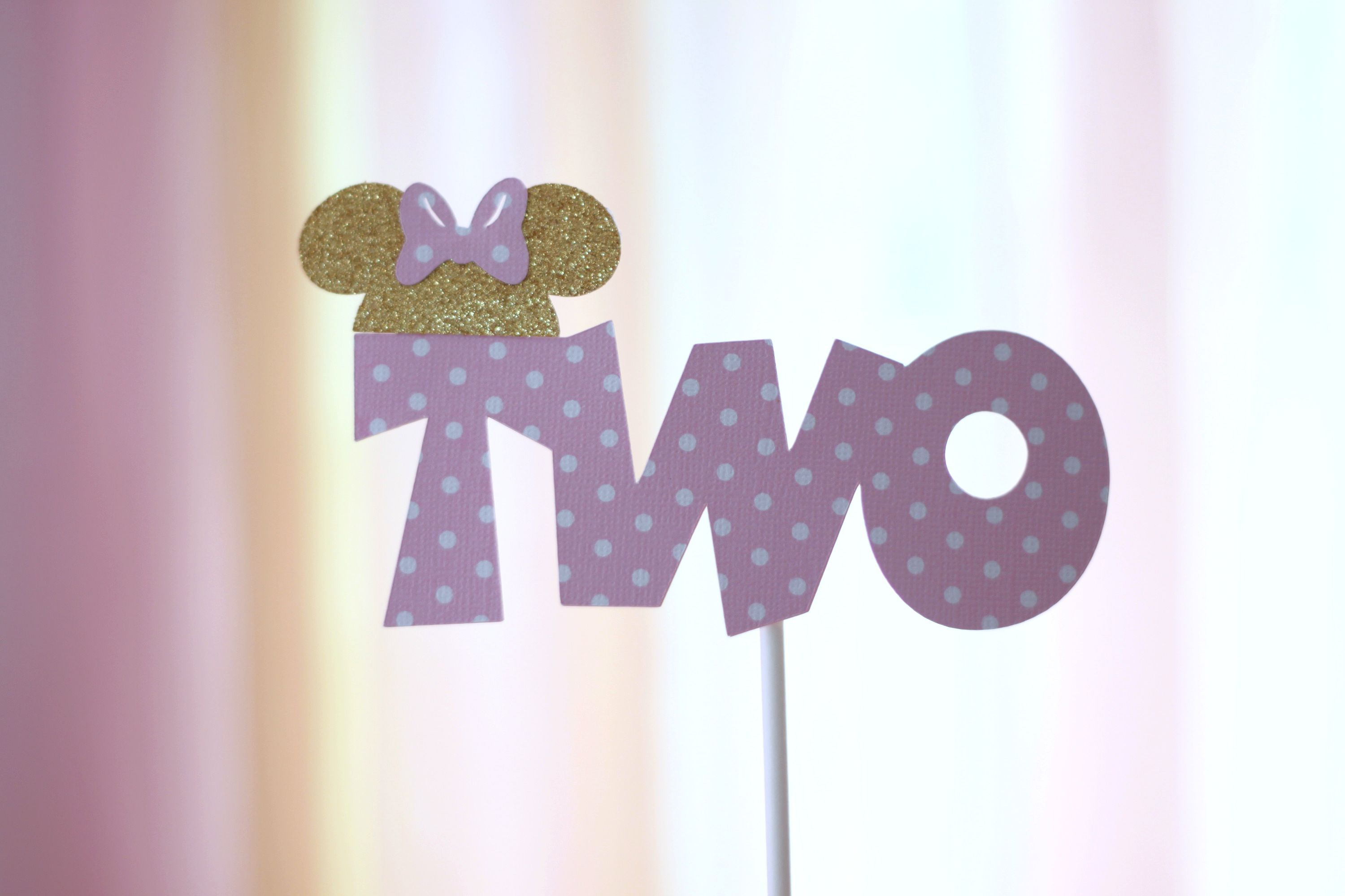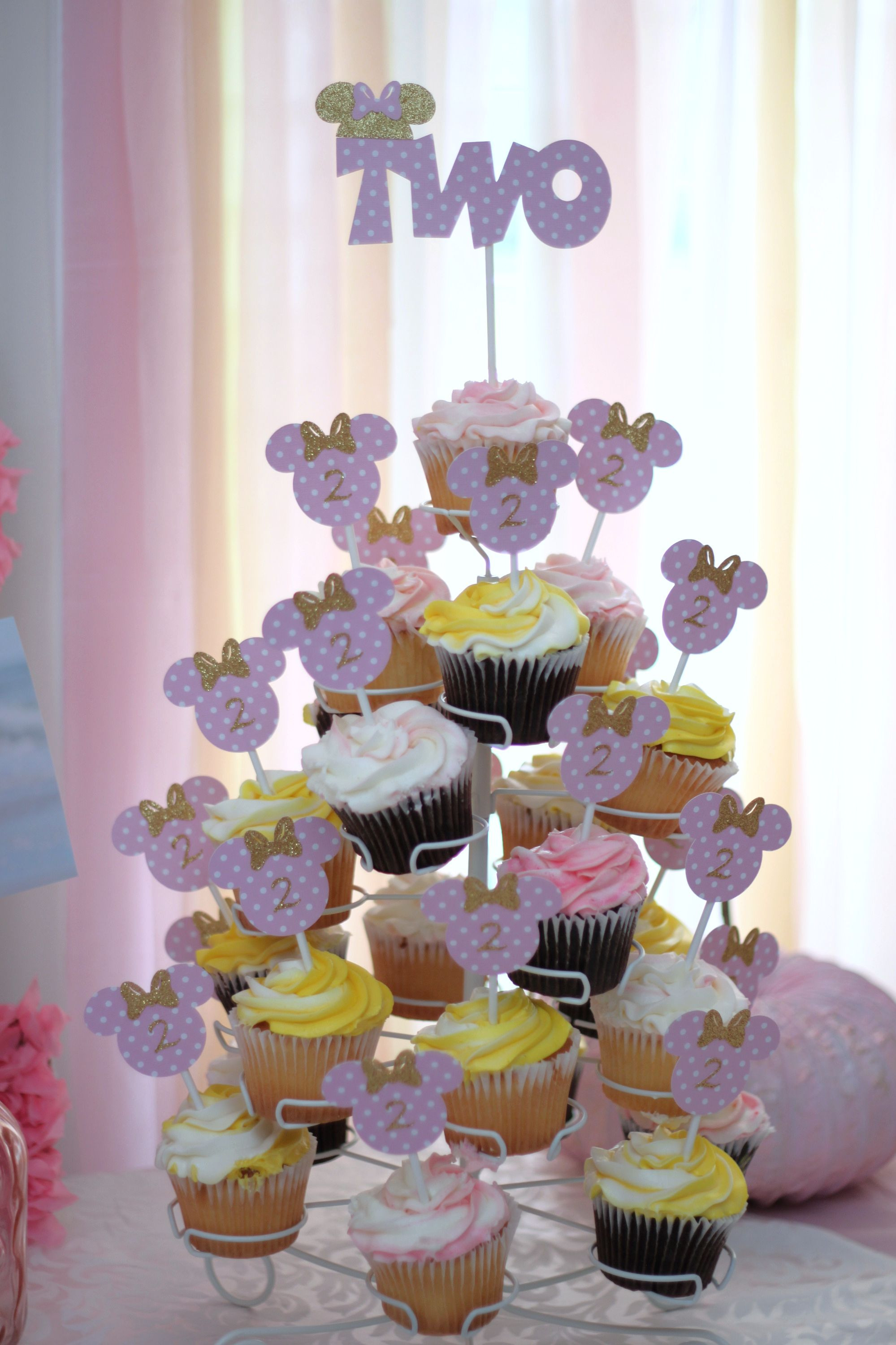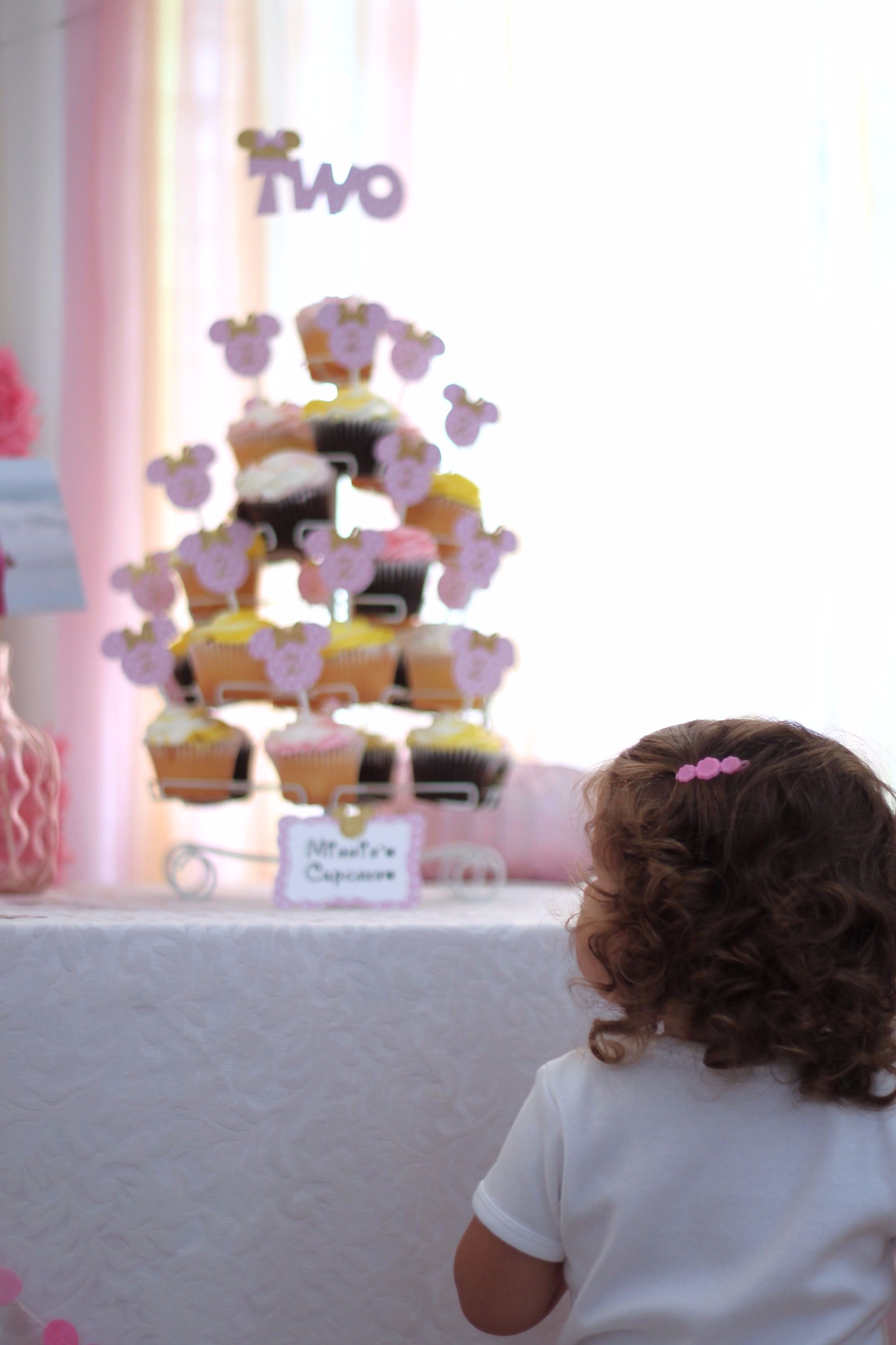 Custom Coloring Pages
I usually try to incorporate something special and personable to my daughter's party. Last year, I designed a pumpkin patch scene which I hand crafted. Everyone that came to the party added their thumbprint (which stamped in orange paint- resembled a pumpkin) to the patch to make a complete pumpkin patch! You can see last year's creation at my "Little Pumpkin's First Birthday." This year I had to continue the tradition. What does every kid love to do? Color. So why not create a picture of my daughter for them to color and take as a momento of the party? So I colored the page to show off the finished product, plus it adds a little more to the party decor. I purchased crayons and sorted the crayons in groups of 5 and then tied them in jute for a finished look. The kids loved them and it also served as another activity to keep the kids busy during the party!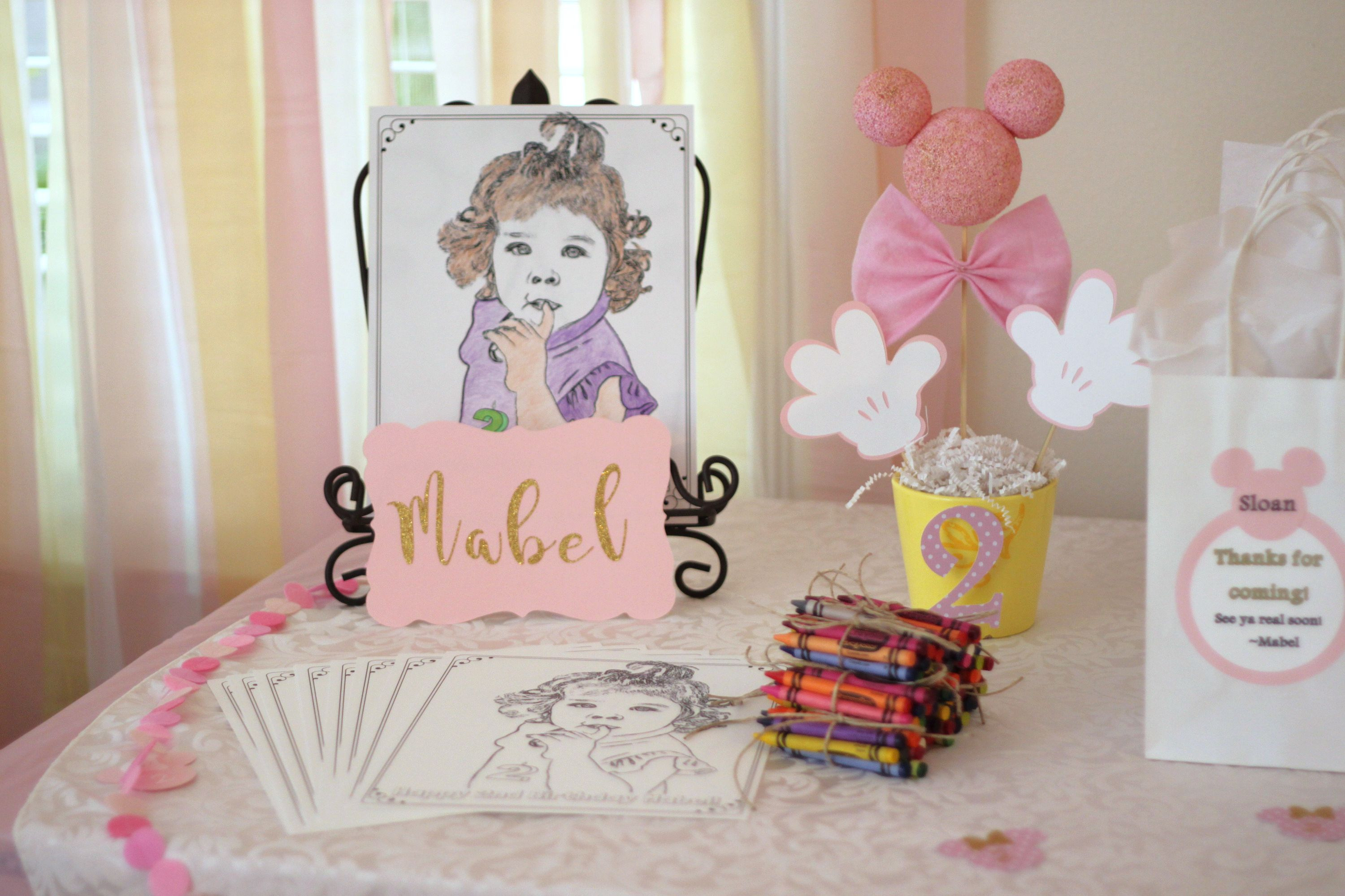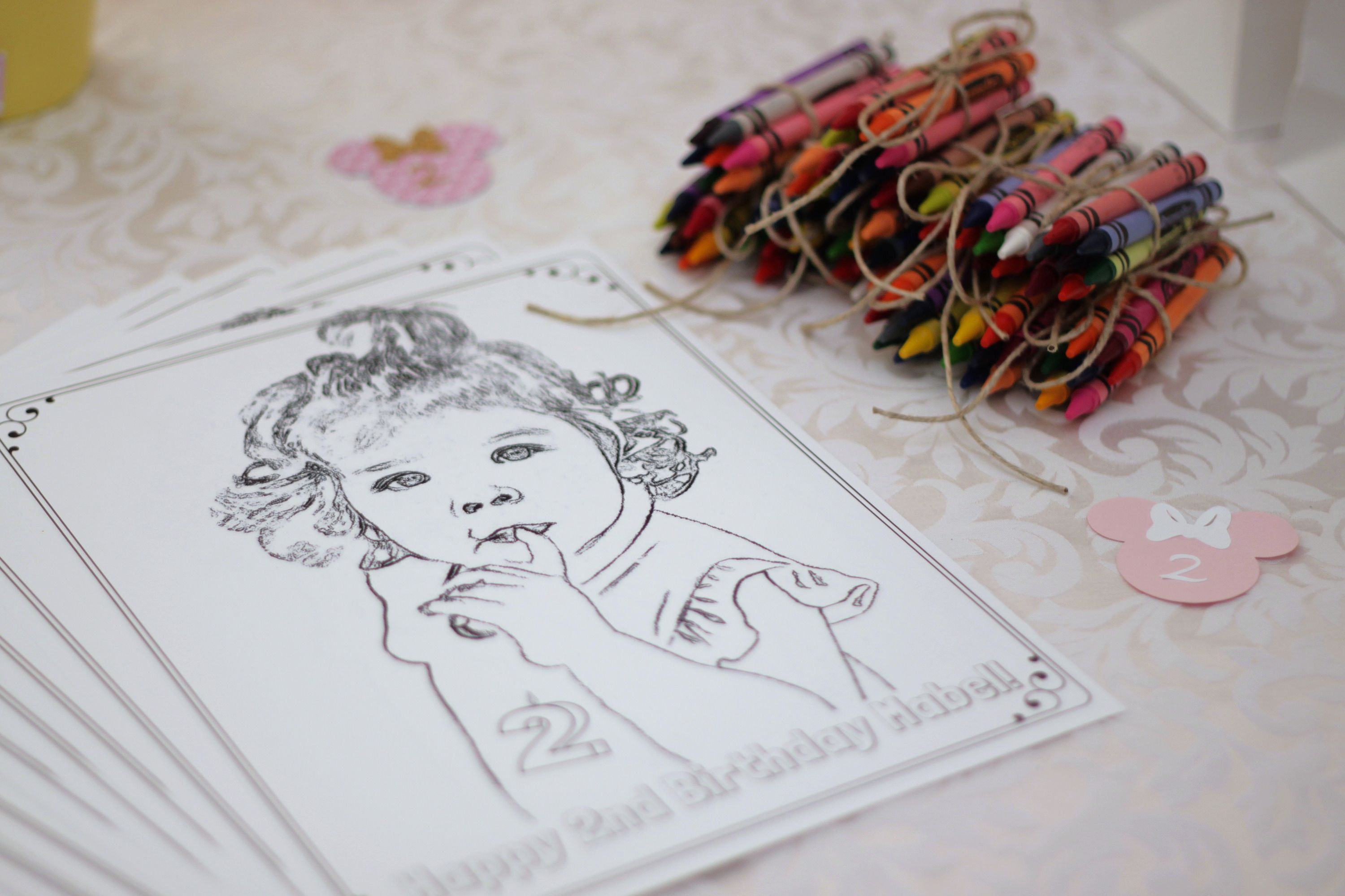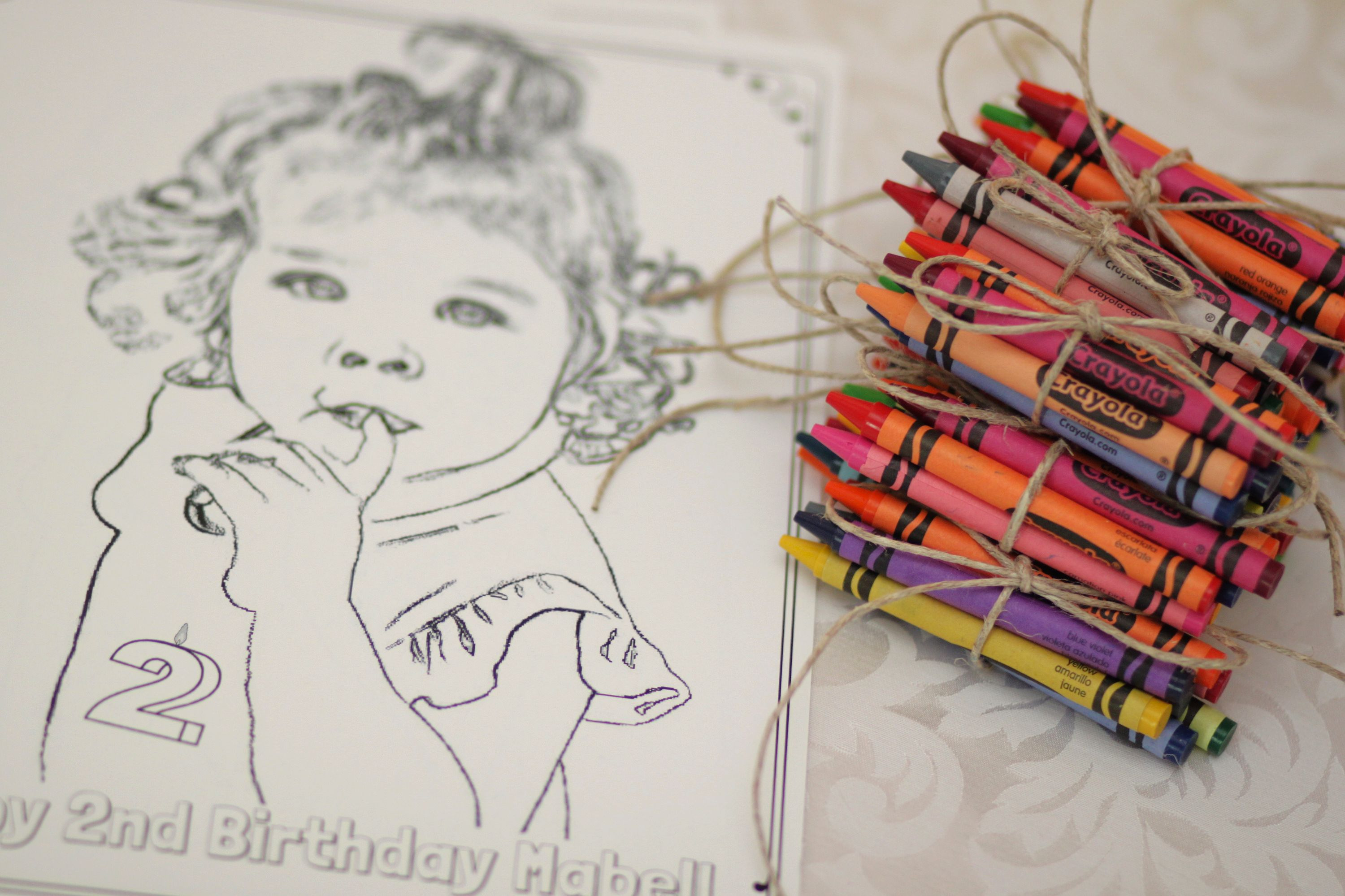 The Party Favors
These were fun to make! I know they might seem a little over the top for a 2 year old's party, but they were so easy to make! Again, my Cricut did all the work, I just had to design them, which by the way took minutes to design. Inside the goody bag we included a Mickey Mouse Clubhouse figurines, Play-doh, Mickey Mouse stickers or a Mickey Mouse marker (depending on the age of the child), and a rice krispie treat. And of course I just had to incorporate the infamous phrase "Thanks for coming, see ya real soon!"on the favor bags.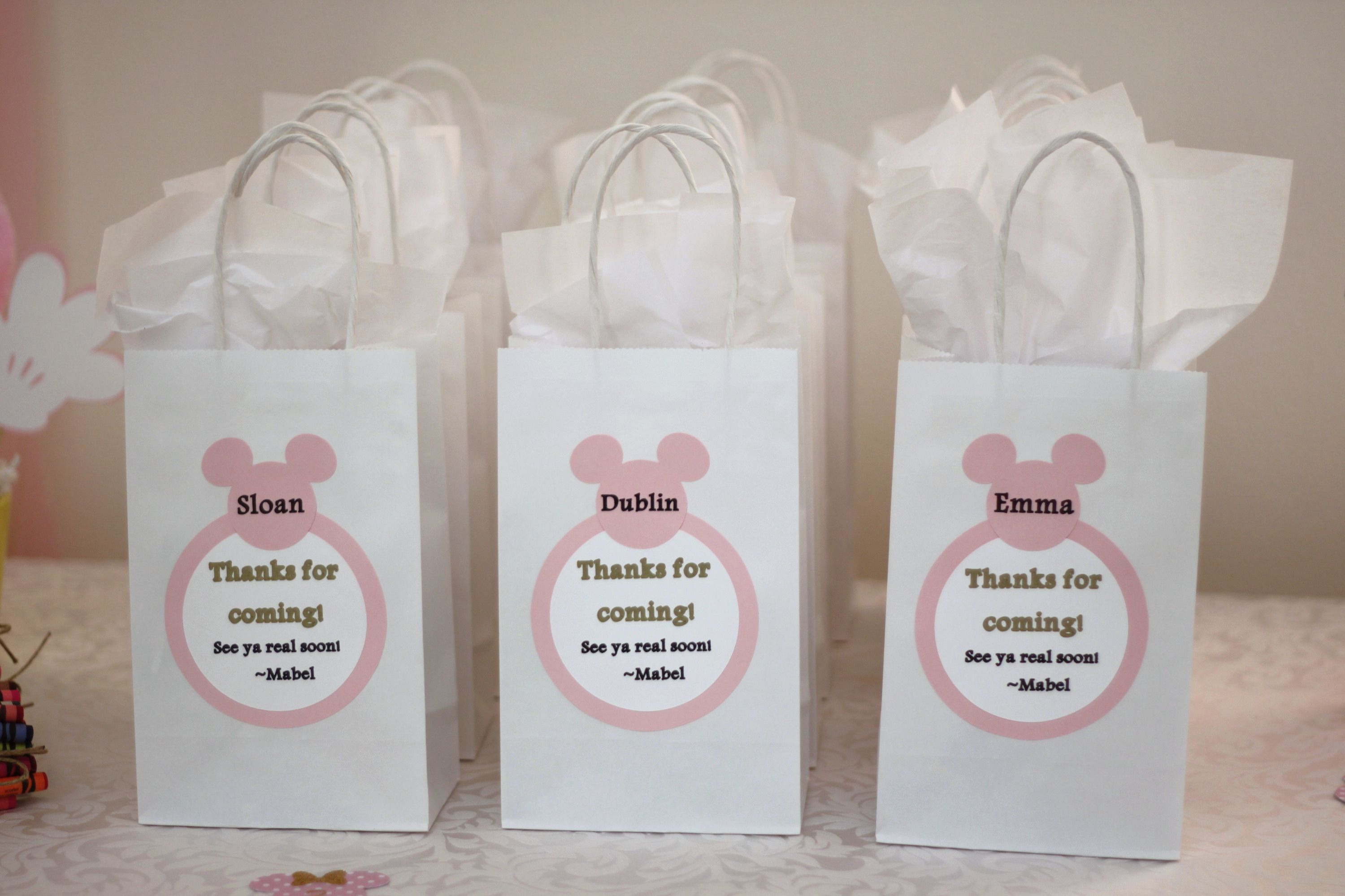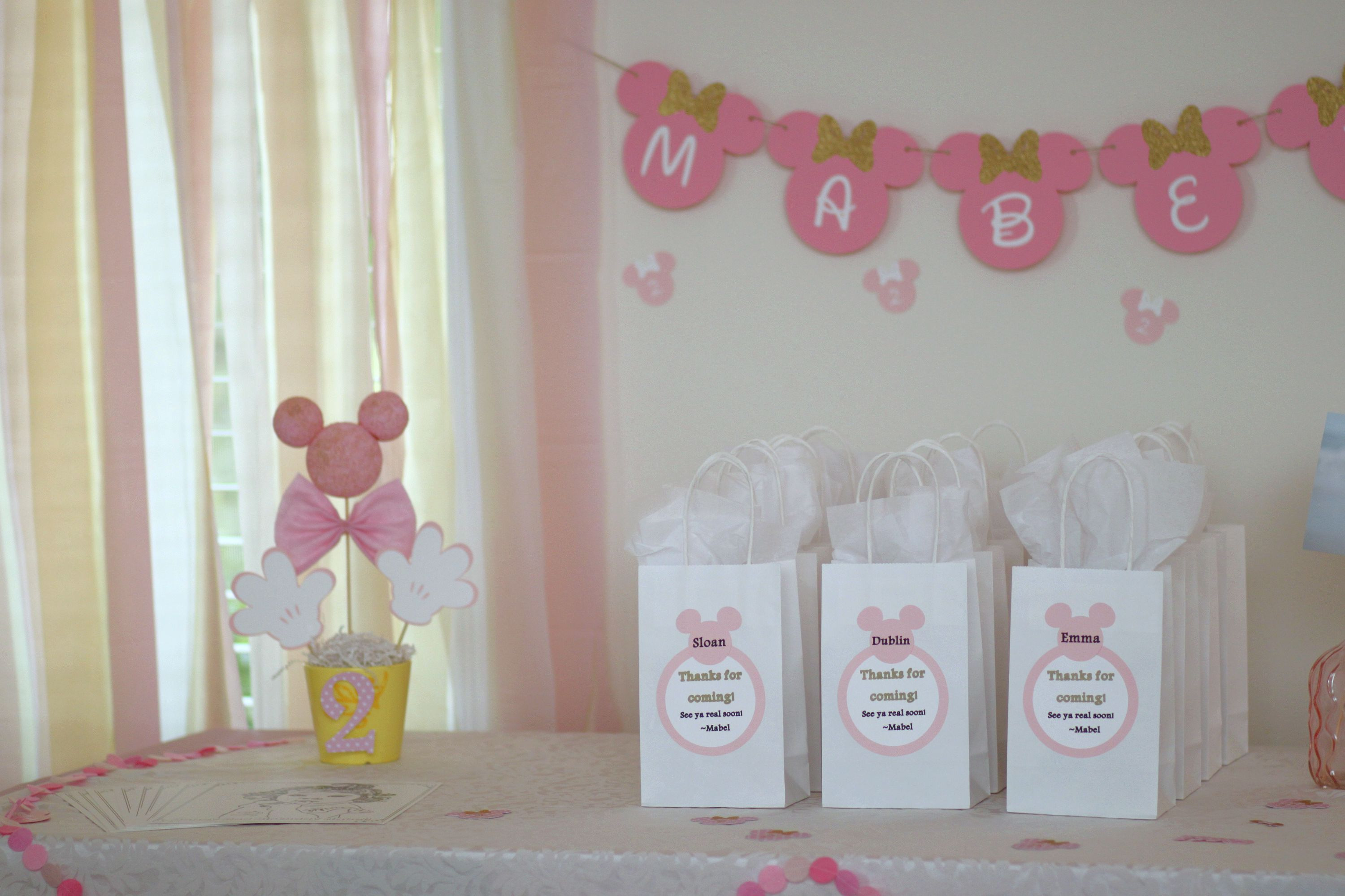 Decorations
I hand made all the decorations. I took my cup cake topper design and cut a handful more and used them on the walls and door for an added touch of Minnie. Thankfully the "mickey" ears are a pretty basic design and the cut is easy (no detail) so cutting on the Cricut was a cinch! You will also notice how incorporated the characters into the party and I used many of the phrases you would hear from the show. I also went a little overboard with pink and white streamers in the kitchen which is where all the food was. My husband compiled a bunch (748 to be exact) pictures of our daughter over the last year that played in a loop on our TV. And of course we had the good old Disney playlist rocking on our sound system!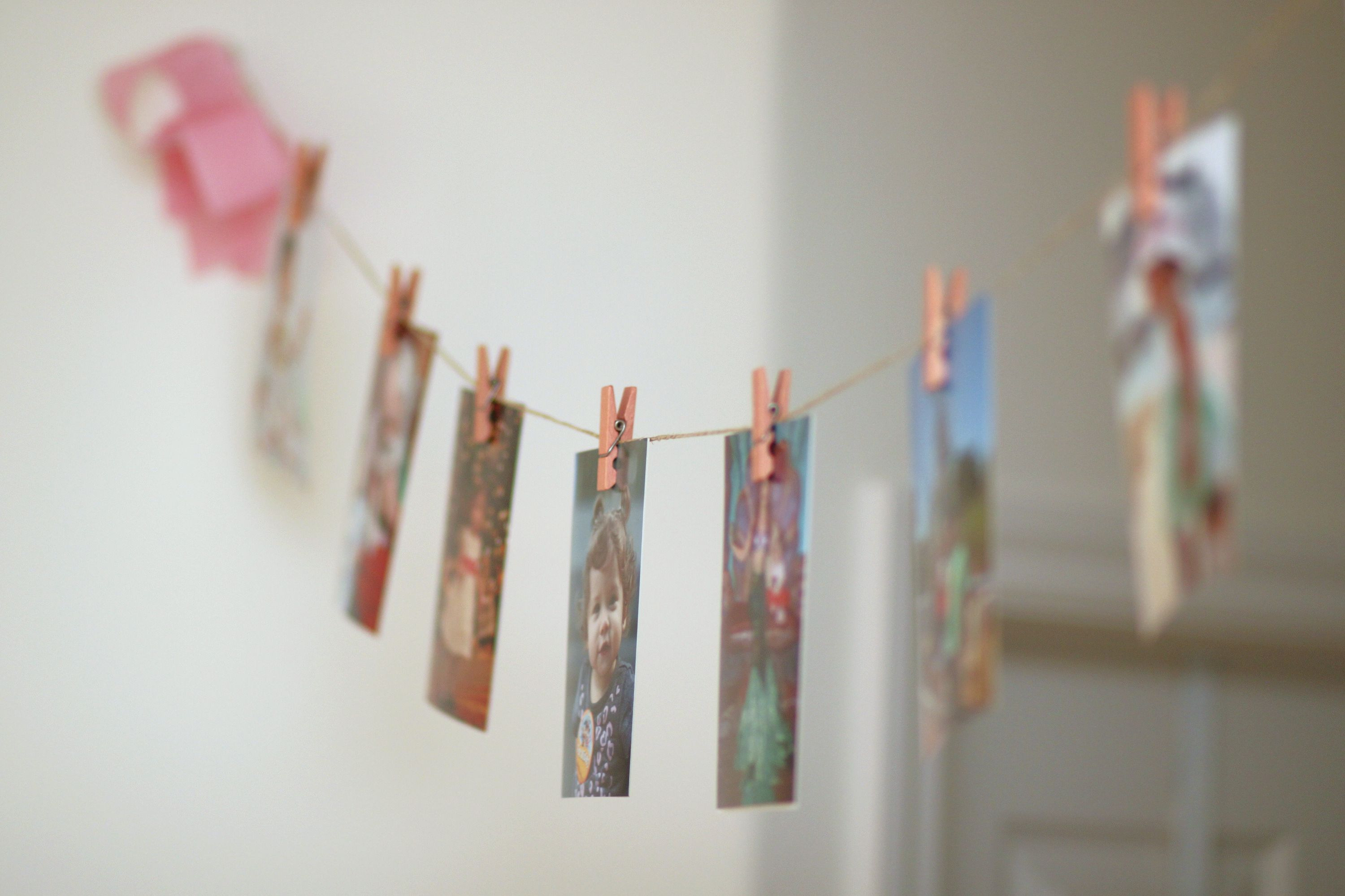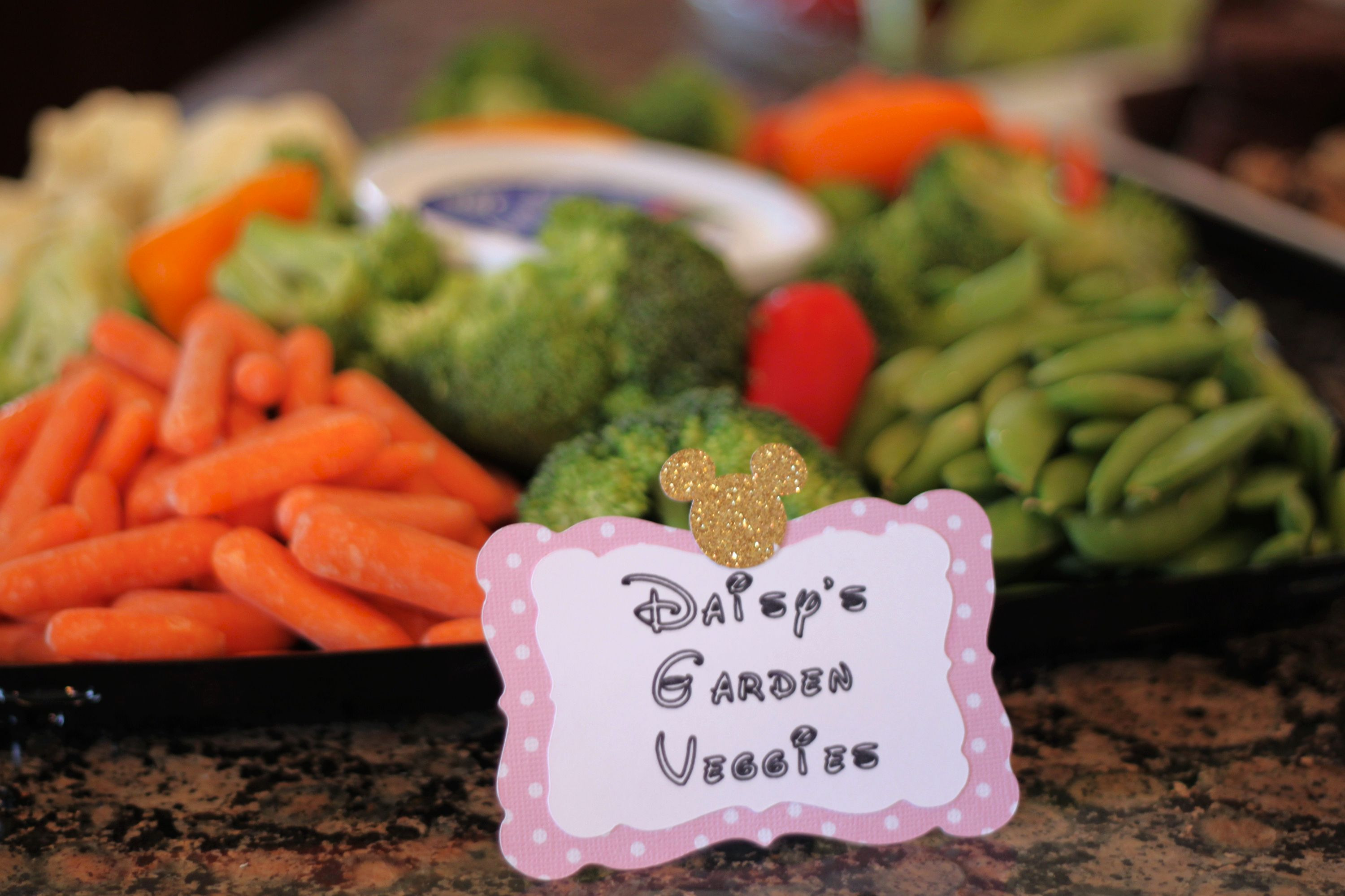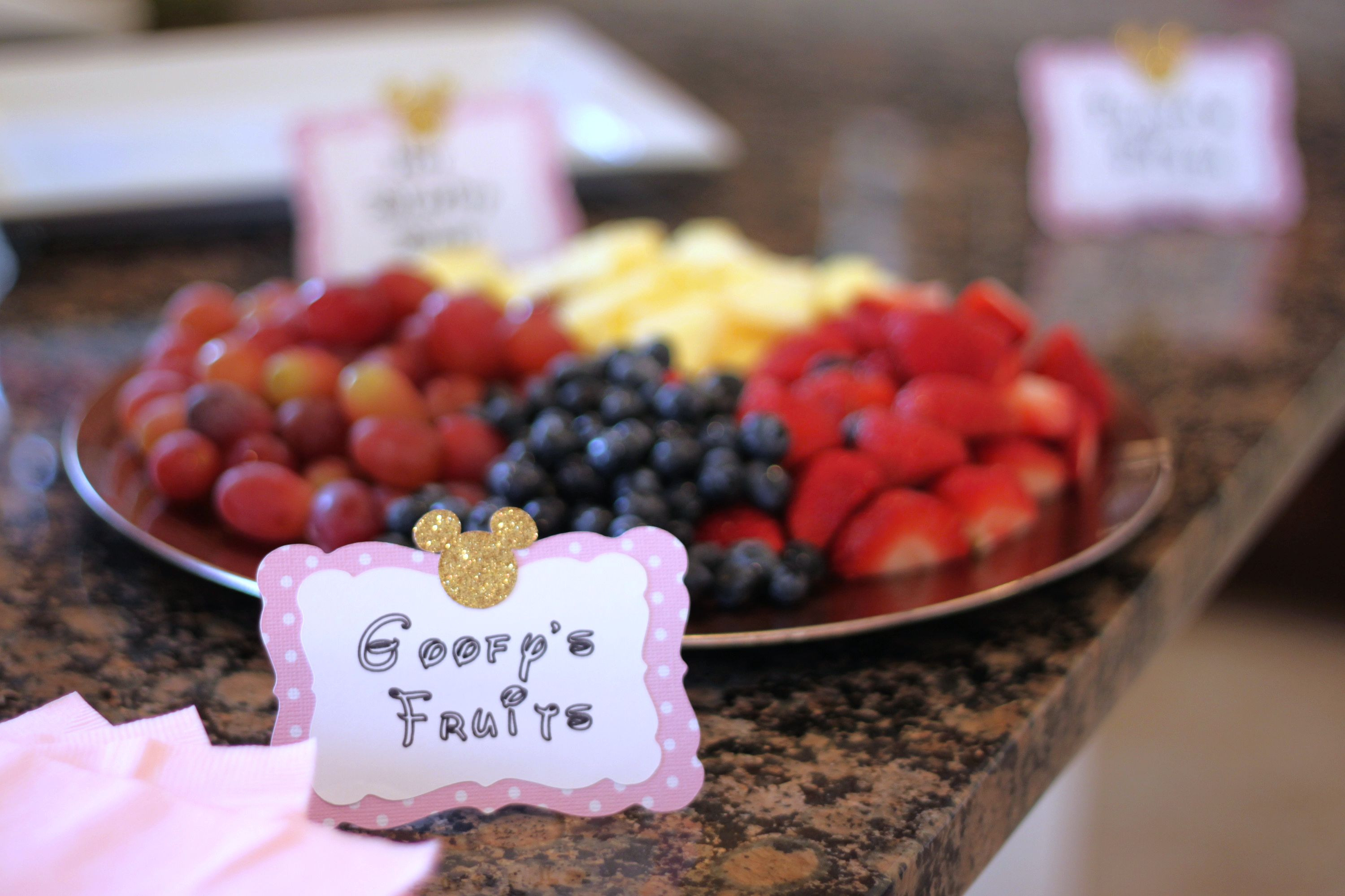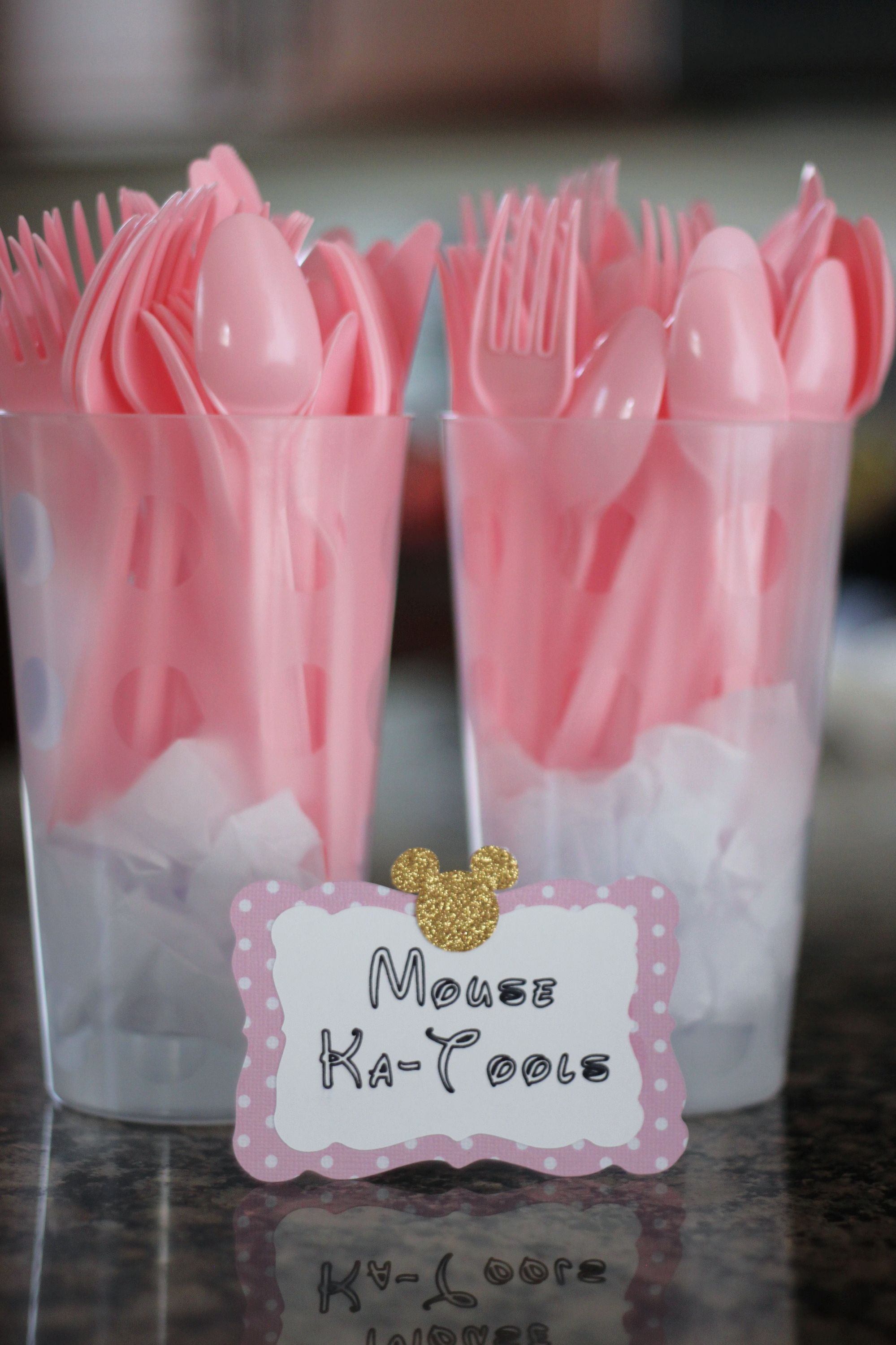 No matter how many pictures you take of the decor at a party you are bound to miss something. We made mini hot dogs and I had a sign for "Mickey's hot diggity dogs." They were in the oven when I took shots of all the food! I completely missed getting the picture!
Here are the signs that I created in Cricut Design. I designed and created these food tags myself. This was not a featured project in Cricut Design.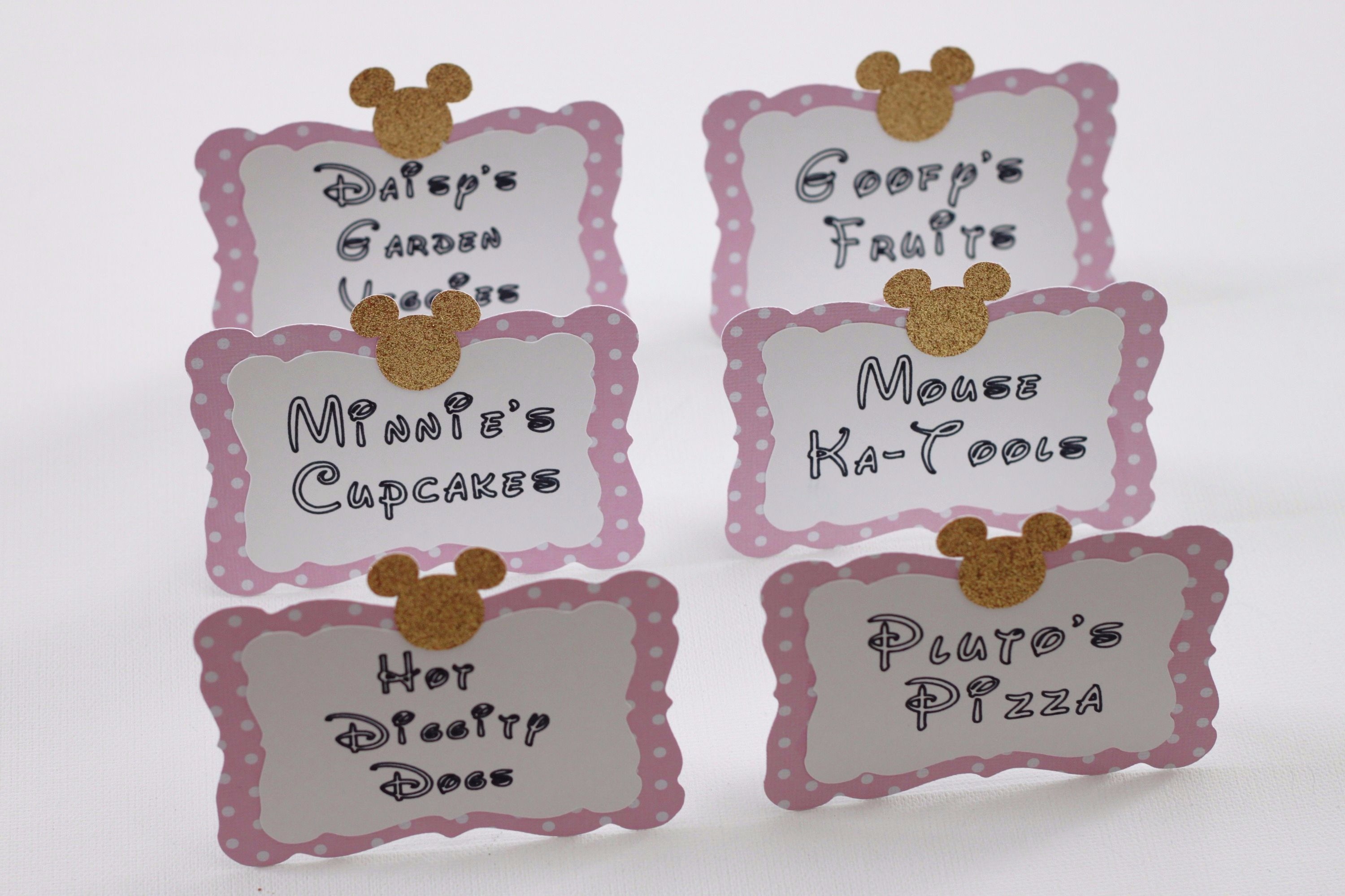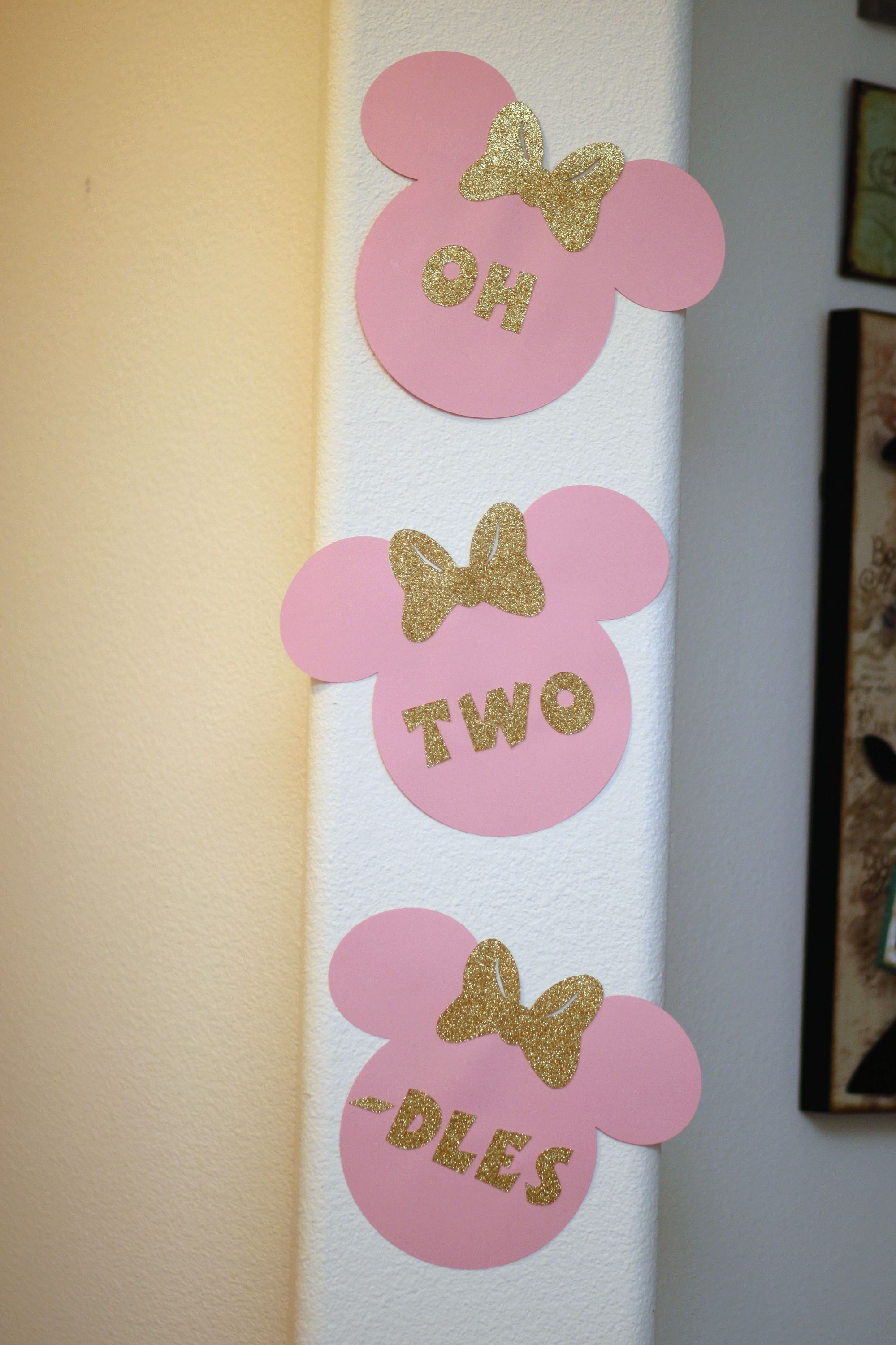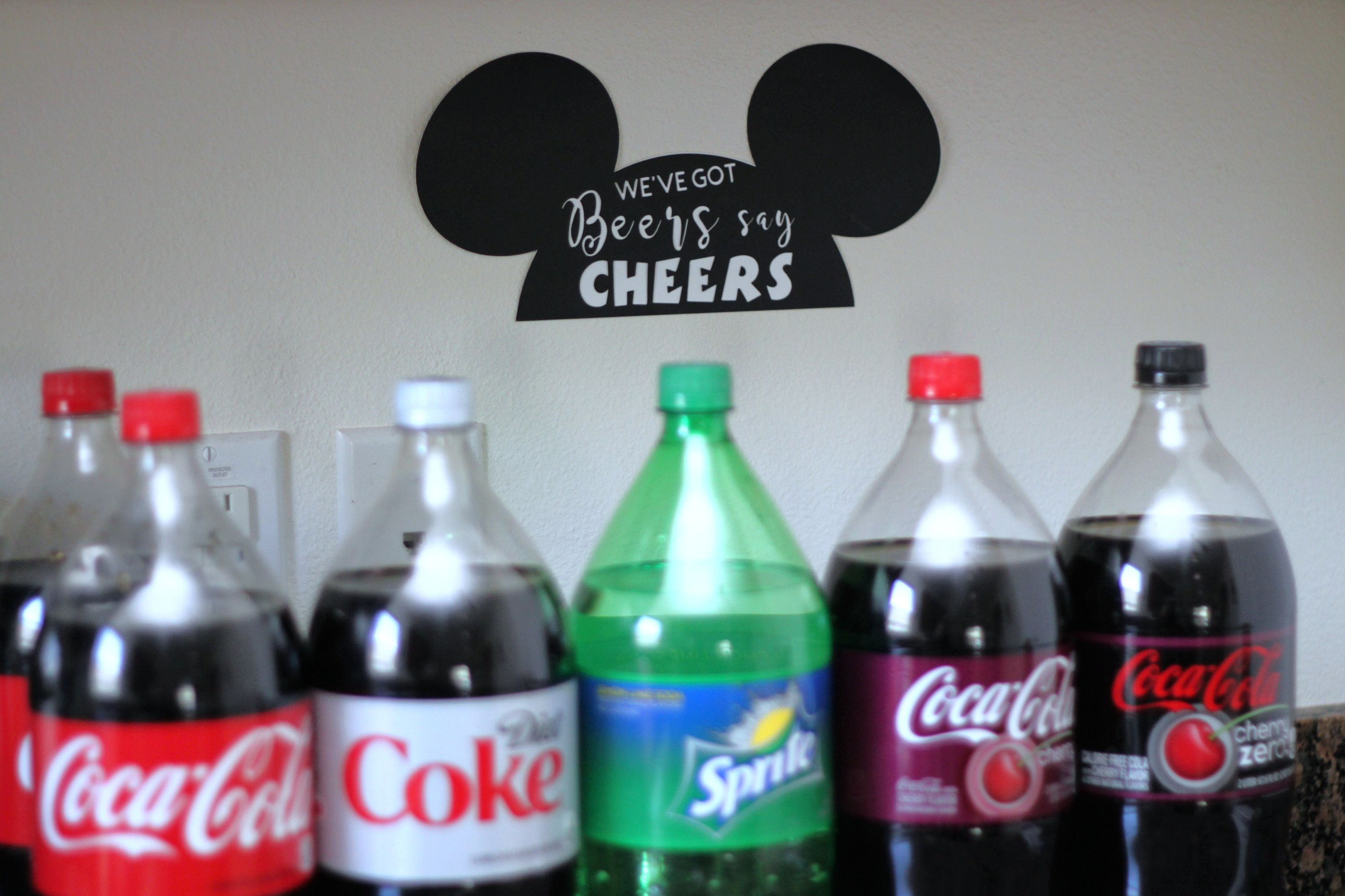 This by far was one of my favorite decor pieces. I crafted it in one night. The Mickey head is made up of styrofoam balls (two different sizes.) I painted them with light pink paint and then added gold sparkly paint to them. You cannot really see the sparkles in the picture, but I promise its there! I hot glued the Mickey ears on the Mickey head. I used a yellow flower and stuck a fitted piece of styrofoam at the bottom of the pot. I used a wooden skewer stick to stand the Mickey head up in the flower pot. Then I took a rectangular piece of light pink felt and pinched the middle and hot glued it to make a bow. For the hands and number "2" I used Cricut Design to design the size and what not and to cut them. Then it was just a matter of gluing them together and attaching them to the styrofoam at the bottom of the flower pot. I added some crinkle cut paper fill to hide the styrofoam at the bottom. I think its simply adorable and added a nice touch to the table!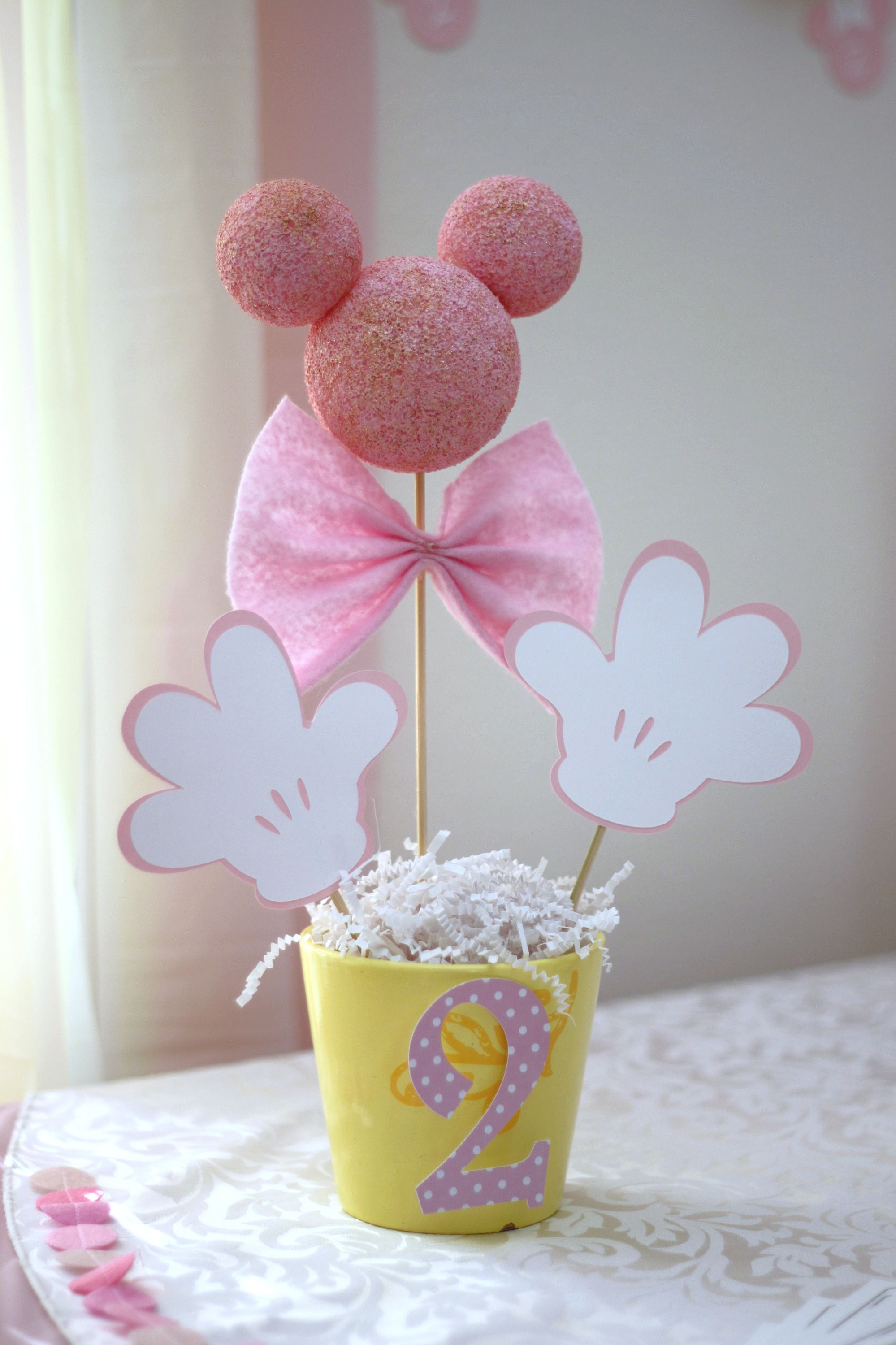 A last minute project that I literally threw together the day before was creating the number "2." I cut up a diaper box and sketched out the number "2." Then I took pink streamers and cut them into small squares. Next, I hot-glued a small surface on the number "2." Then randomly bunched and placed the squares throughout. It is fairly an easy project, there is no right or wrong way to do it. Just be sure you cover the entire surface of the number "2."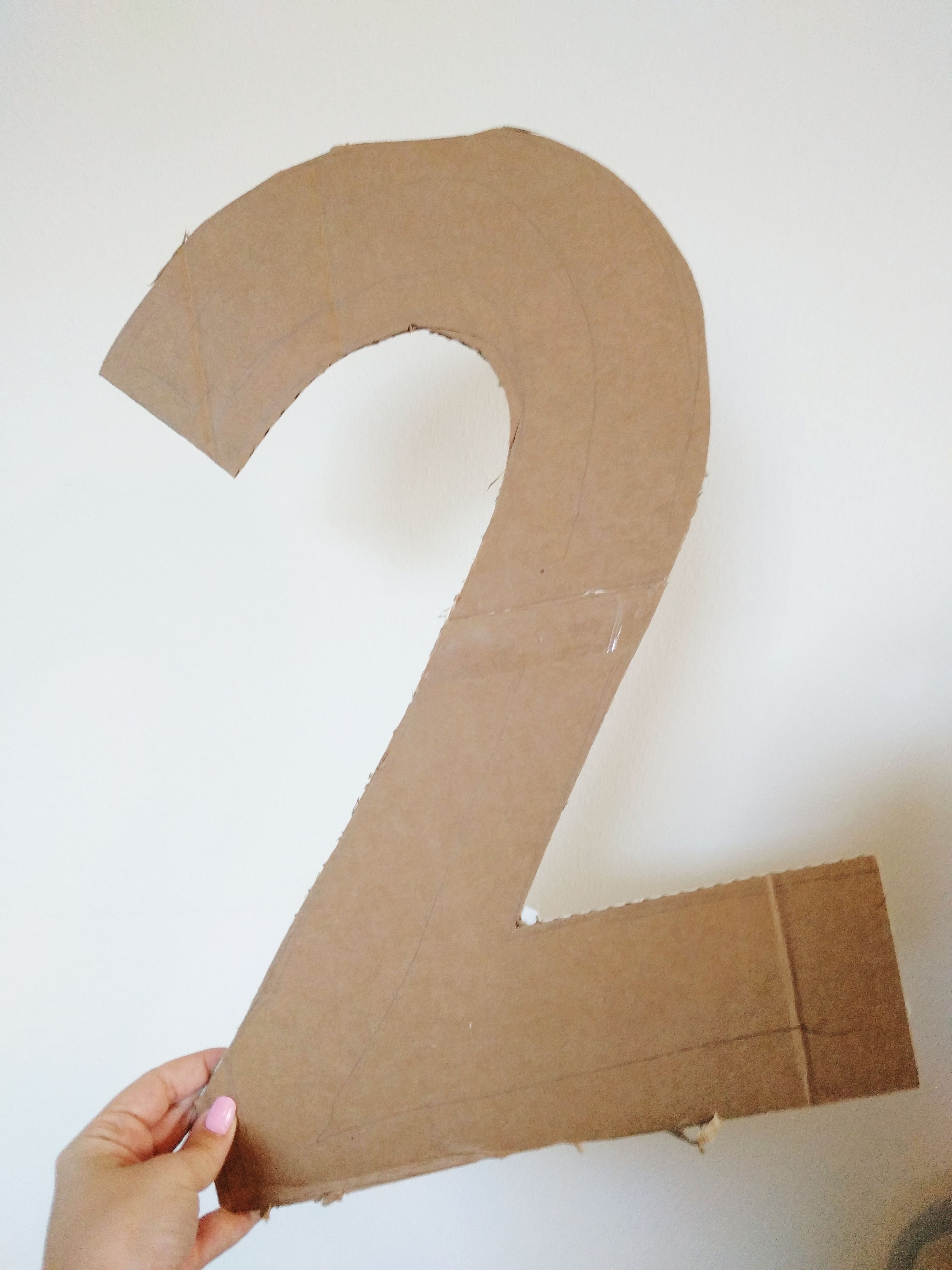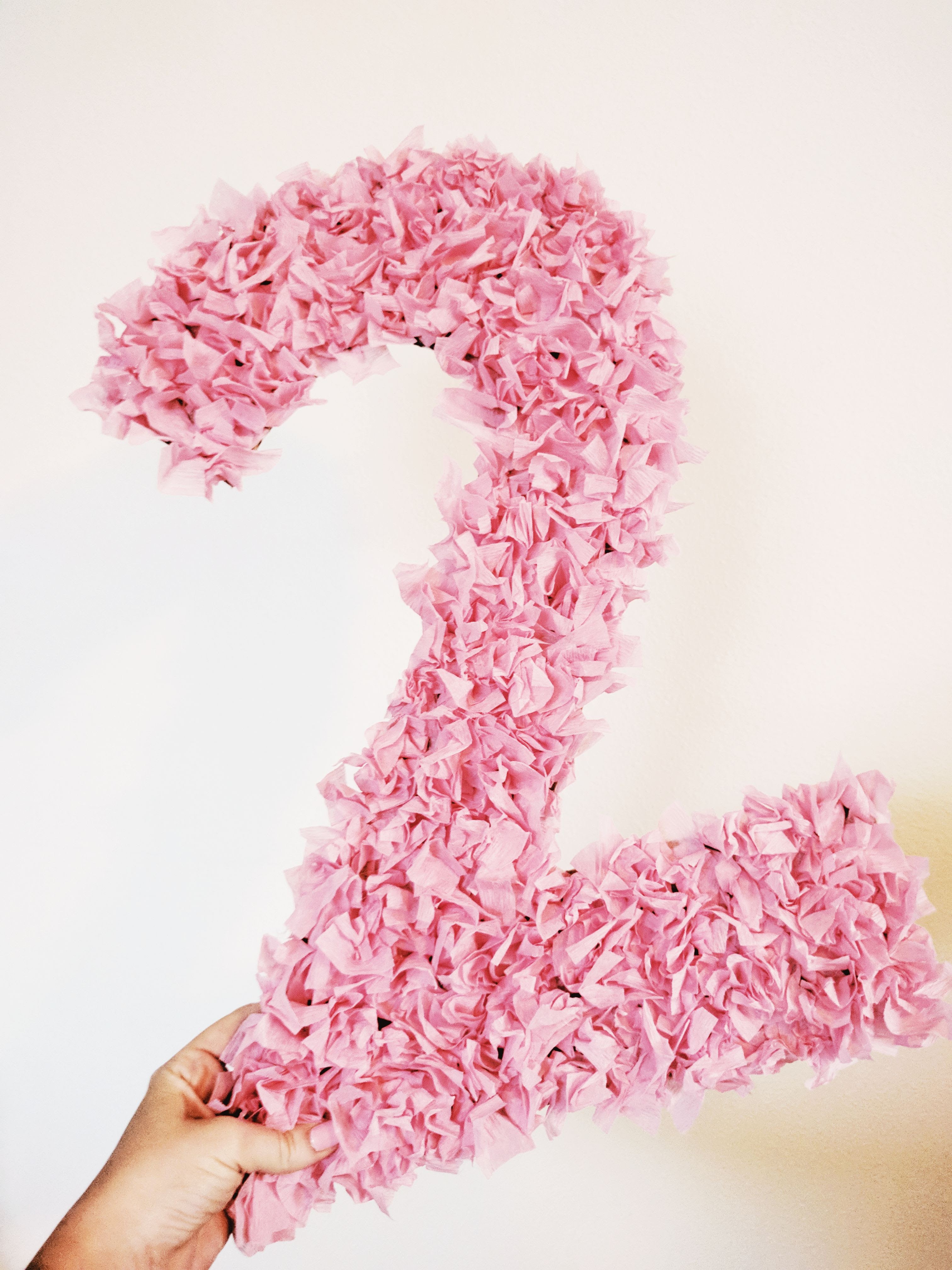 The Party
The party was awesome, great food and great people! We ended up renting an obstacle course for the kids. The kids just loved it! It was hot, but we went out every once in a while to play on the obstacle course (even the adults played on it!) We also enjoyed playing with the parachute, I mean how you can pass up a parachute for $5!
And now, a few pictures from my daughter's 2nd birthday party.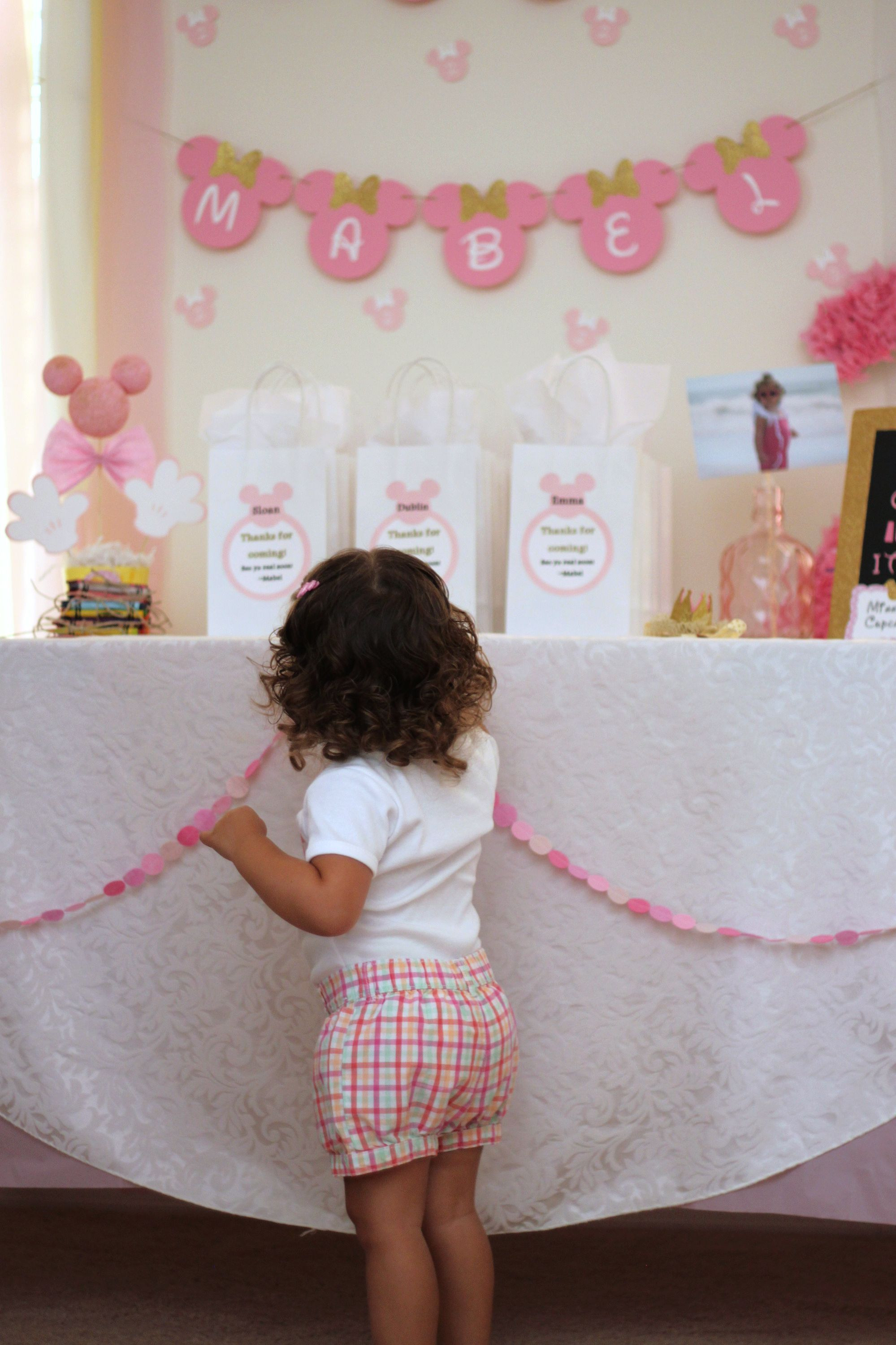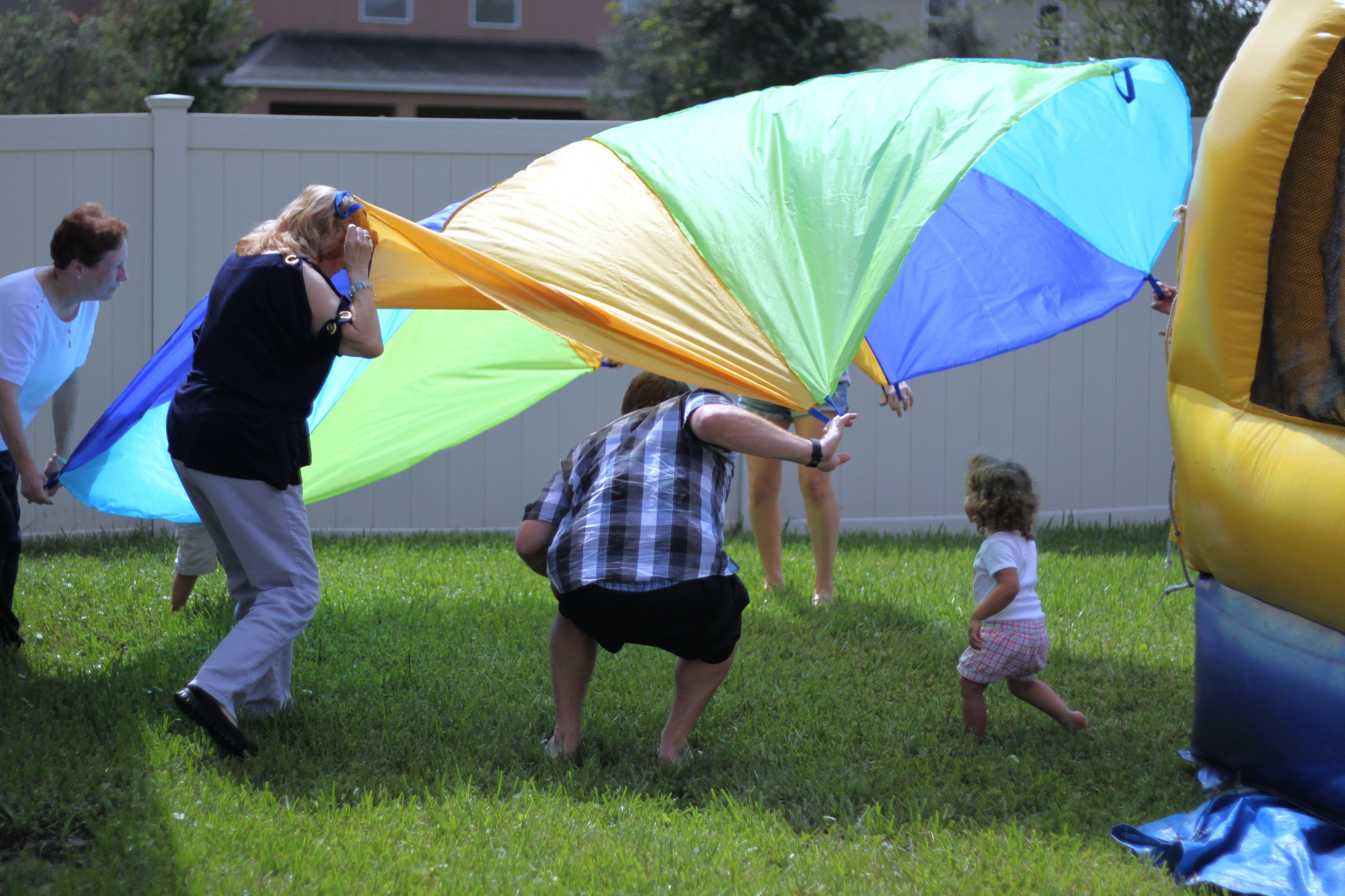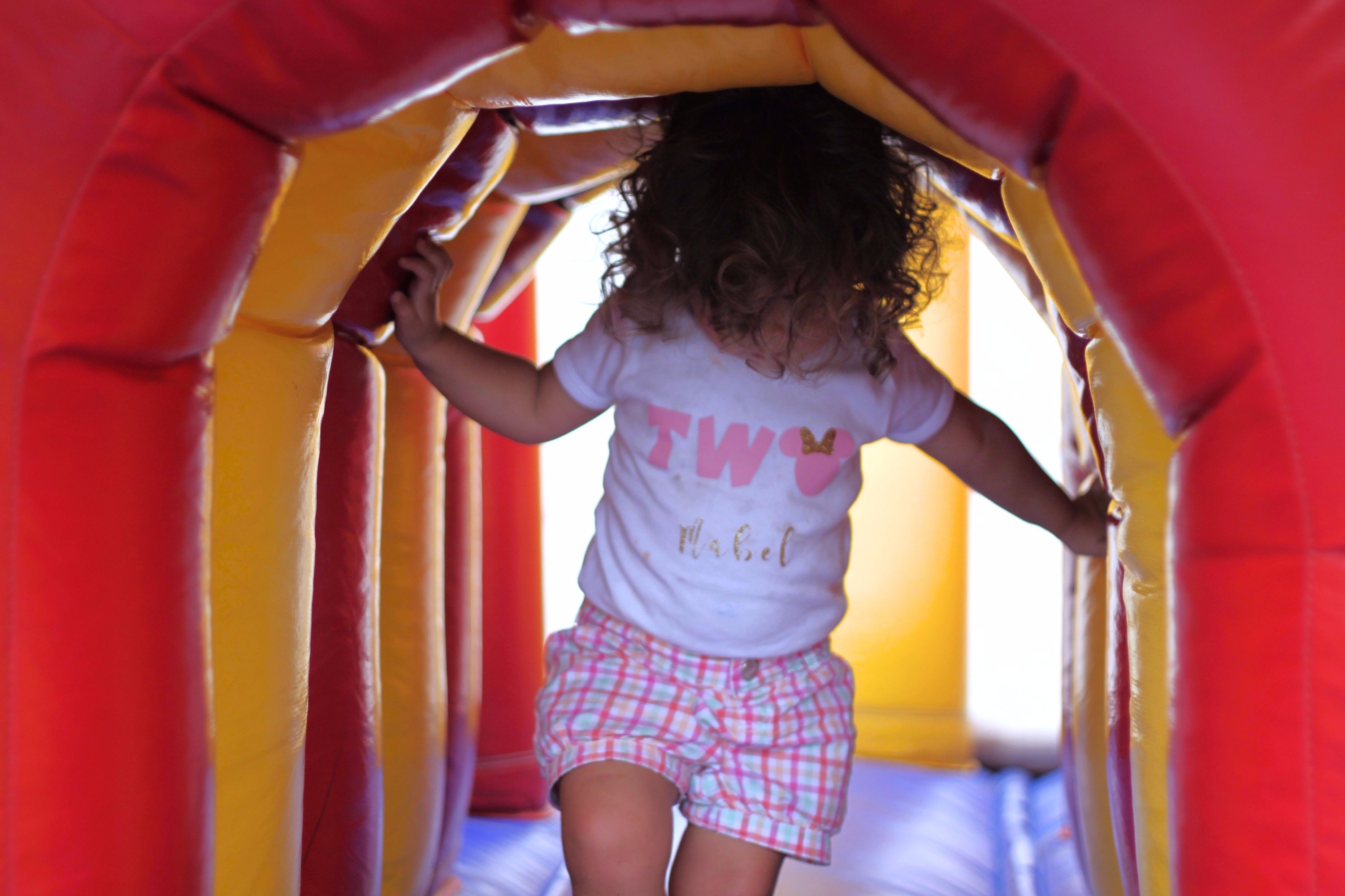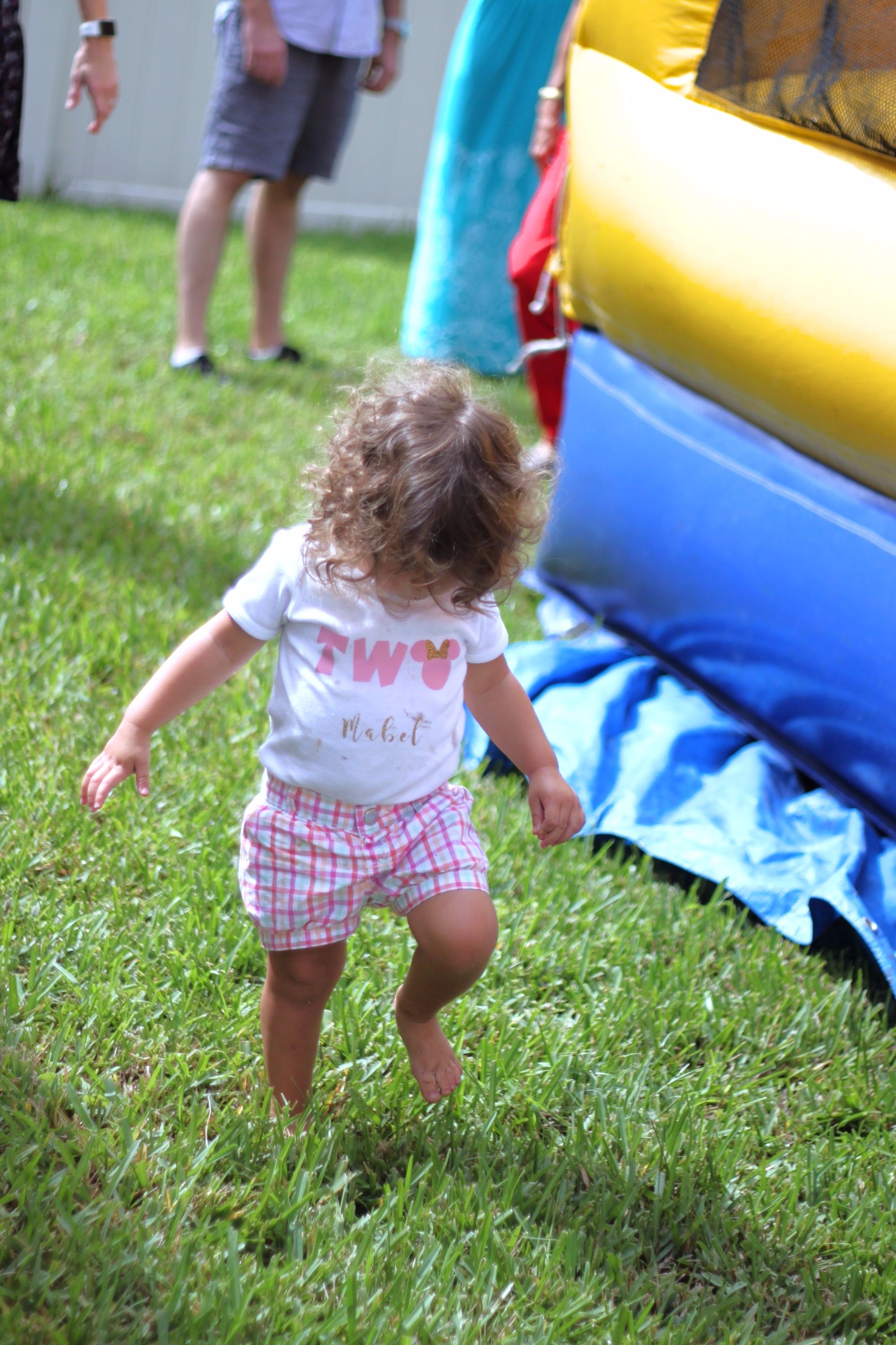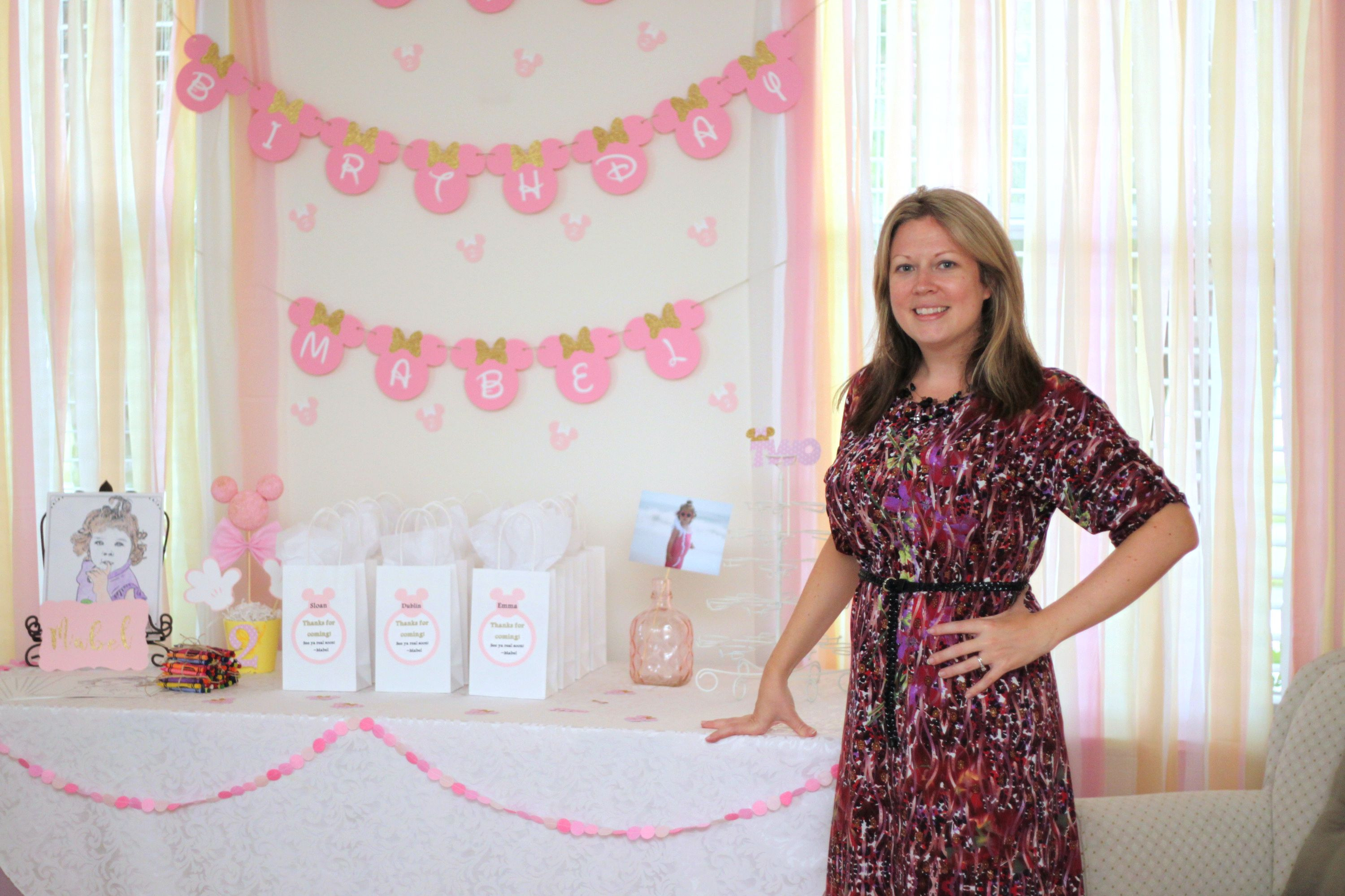 I hope you enjoying the highlights from my 2 year old's "Oh Two-dles" birthday party! I hope that I can inspire you to find your creativity and make your next event a little more special!