College Themed Door Wreath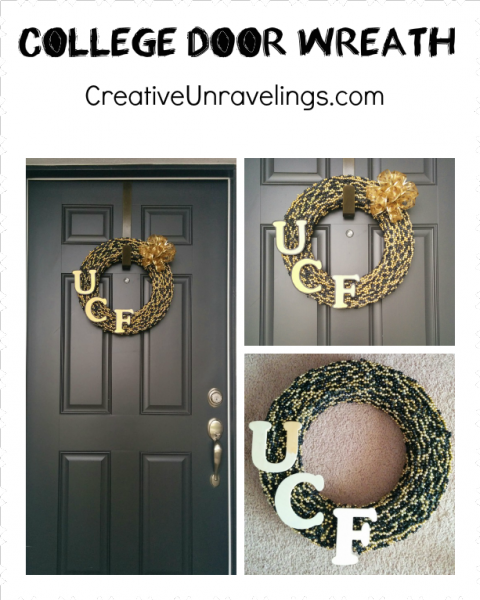 Over the years I have accumulated TONS of Mardi Gras beads, its to the point now where I am just about ready to chuck them. I found this on Pinterest and I fell in love with it! Whats funny is the door in the picture is the same color of our front door so I already knew how the final project would look. This was my inspiration, I only used the beads as the base of my project.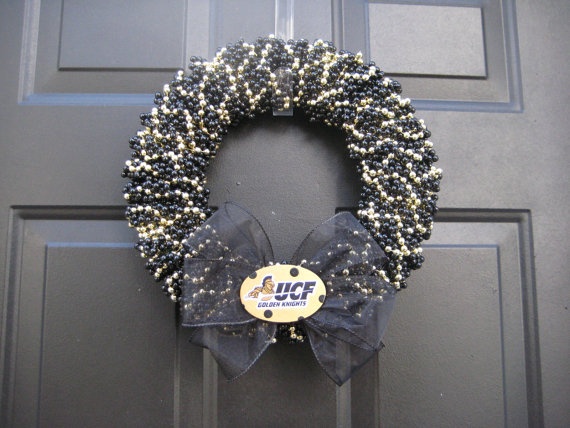 While there were no directions on this project I had to figure them out for myself, it took some time, but I closely studied the picture and came out a process that works.
Materials Needed:
Hot glue gun
Black & Gold Mardi Gras beads (or your own team colors)
Styrofoam Wreath (Check out the sizes at the store to see what would look best on your door)
Primer spray paint
Black satin spray paint
Wood letters
Black Acrylic paint
Gold Acrylic paint
Picture hanging wire
Ribbon that coordinates with colors
Polyurethane Spray- clear sealant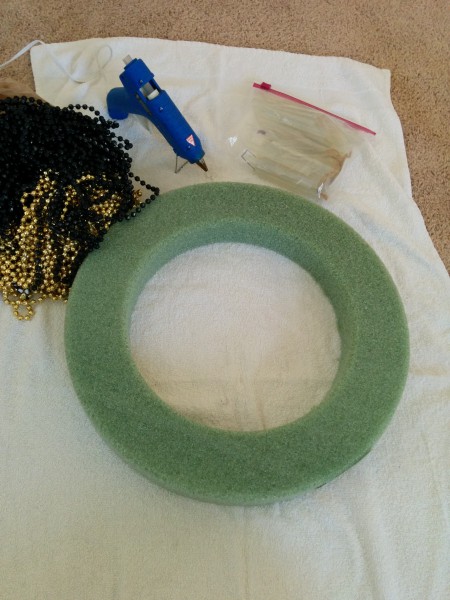 I had the gold beads so I was set there, I had to create the black beads for myself. I used purple beads and sprayed them all with primer (let dry) and then sprayed them thoroughly with the black satin spray paint. This took a few days to do.
It took me different techniques to try and figure out how I was going to get the beads to stay on the wreath, you will see in my picture I attempted several different ways. I finally came up with twisting every two beads so that the black & gold strings would become one long bulky strand. It gives it more of a 3-D look which is what I was going for.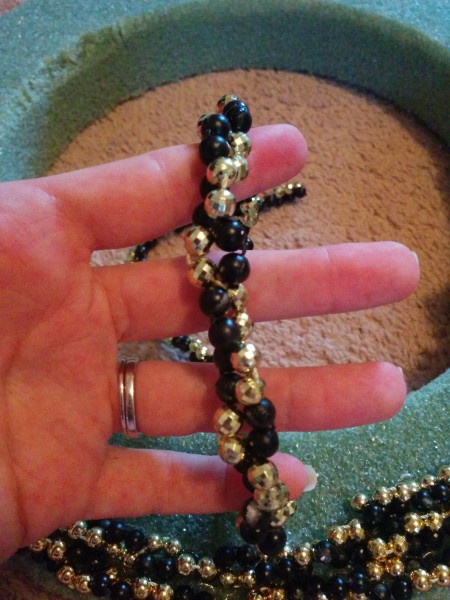 Then I started filled the black & gold strands on the foam wreath like I was putting together a puzzle. Some strands I had to cut down and I had to fill in here and there. Another tip TRY and not burn yourself with the hot glue gun. I burned myself multiple times and it was not fun.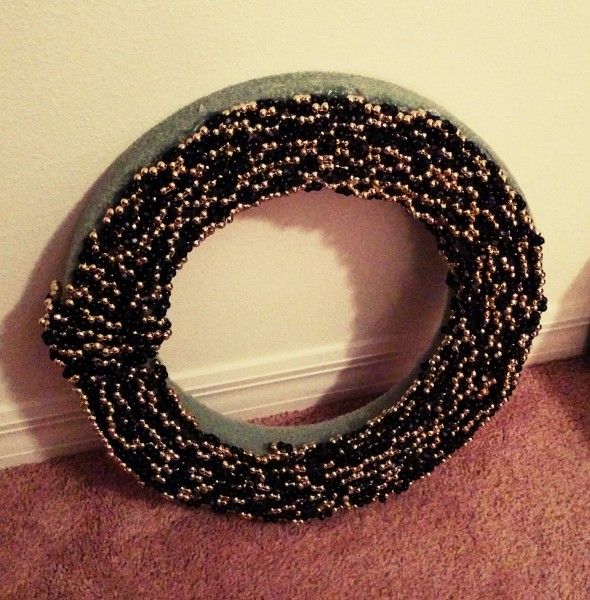 Here is a picture showing a little more circular definition to the wreath.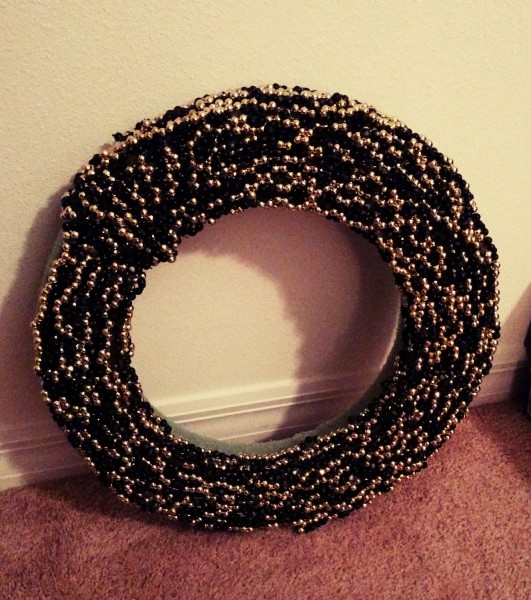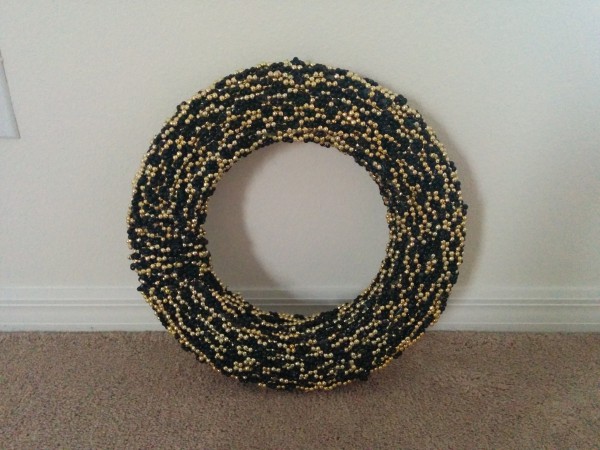 Next it was trying to figure out what lettering fit the wreath the best. I purchase two different sizes of lettering and modeled it on the wreath to see which one I liked best. I was leaning more toward the larger letters and with the help of some family, the vote was unanimous...Big letters it was!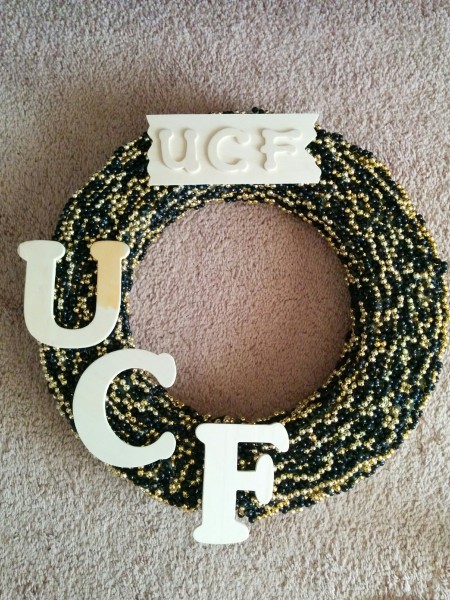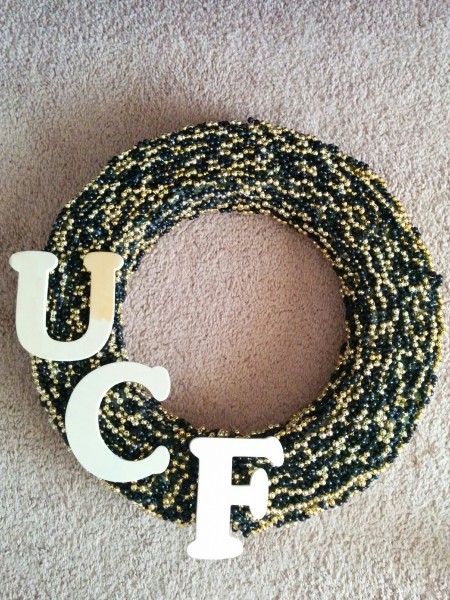 Next step was painting the letters, I went through alot of color concoctions in my head and I finally just ended up painting the letters gold and outlining in black. I wanted to keep it clean & simple but I wanted the letters to "pop" out.

After everything was in tact, I sprayed it down with polyurethane clear sealant. This will help keep it from rotting and fading.
To finish off the wreath, I added a bow, which adds just the right amount of glitz I wanted.
We are officially ready for football season to begin!