Here it is! We had so many projects lined up, we were able to complete almost all of them with the exception of the custom closet. There is just not enough time in the day to tackle everything. We decided to move the custom shelving project to our pantry which would be 100 times more beneficial to us. So that will be a future project.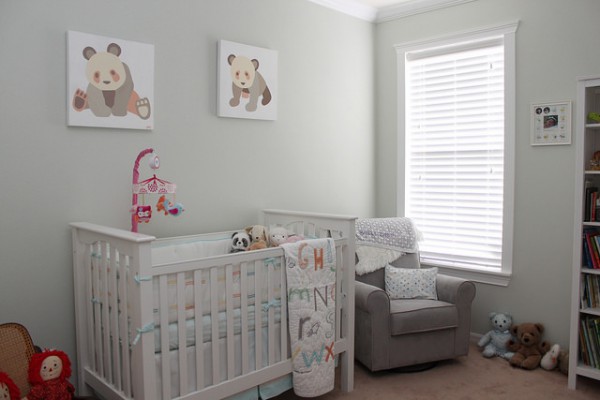 It was so much fun creating the nursery. My husband has completed a few creative/challenging projects and I am SO proud of him! Here are some pictures along the way...
Picking a paint color: I knew that I wanted to go the green route. It only took about 3 paint samples for me to be 100% in love with one of the colors (it usually takes me about 7-10 samples to make a decision)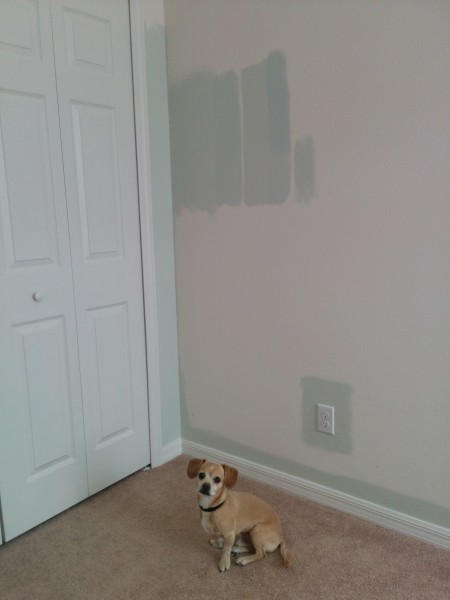 I actually painted the trim and the lower part of the room. I felt great and it got me moving and yes the doctor said it was ok. The hubby painted the parts that I could not reach which he likes to say was 75% of the room.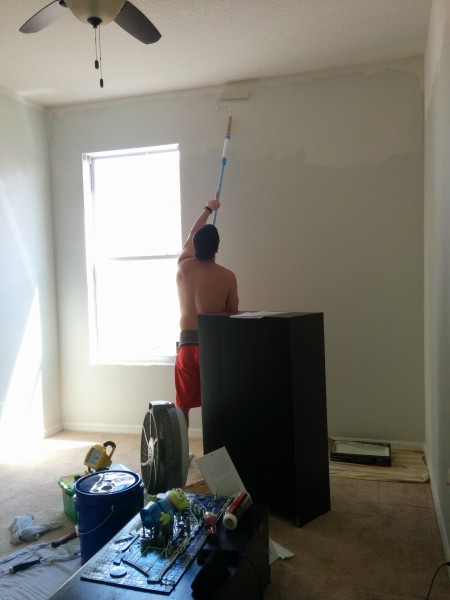 Crib Assembly
Fell in love with this crib from Pottery barn. I mostly fell in love with the "Rowan" bedding which is now retired. The crib they advertised with the bedding is the Kendall crib. We are so pleased with this crib. It is high quality and very sturdy. We also purchased the toddler rail that attaches to the crib, this will hopefully make for an easy transition when my child is older.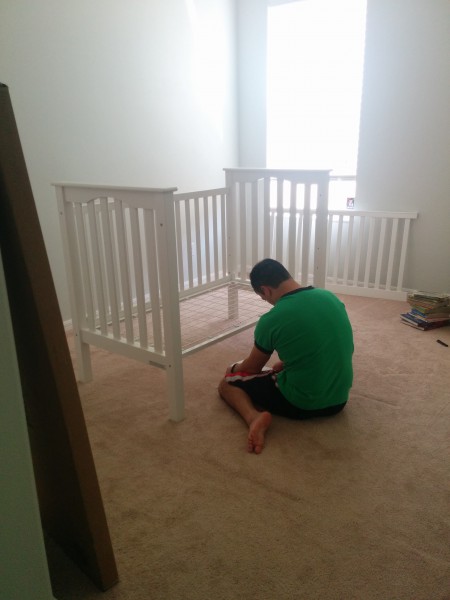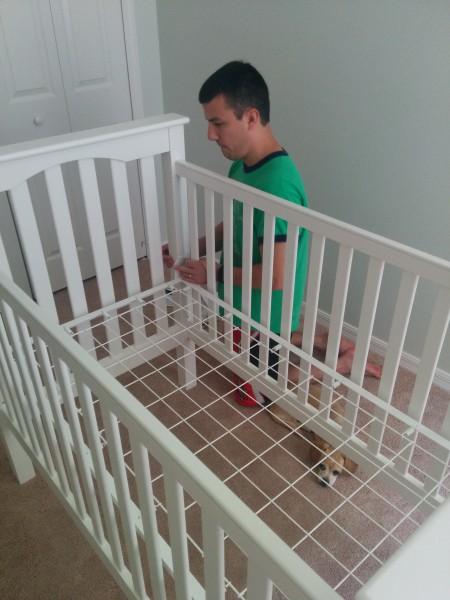 Crown Molding Installation: This was the hubby's first crown molding project and boy was it challenging. My Uncle gave him some tips and advice on how to do it and it came out absolutely amazing! We want to eventually install crown molding throughout the house. We are so glad that we first started off in a bedroom. My husband ended up purchasing this handy dandy tool from Kreg. Kreg KMA2800 Crown Pro is a tool my husband swears by. He said that it made the job so much easier. It will also be beneficial to use when we finally decide to install crown molding throughout the house.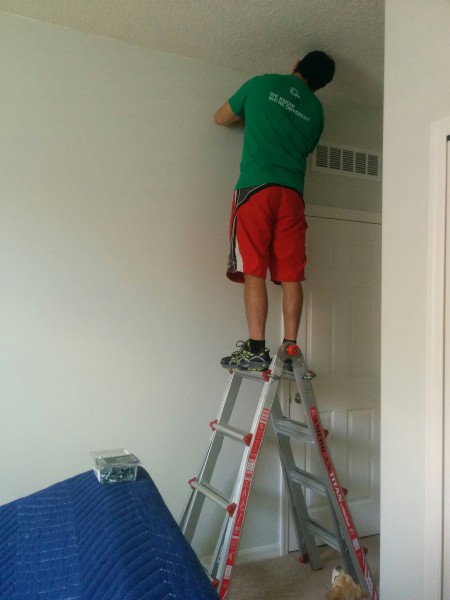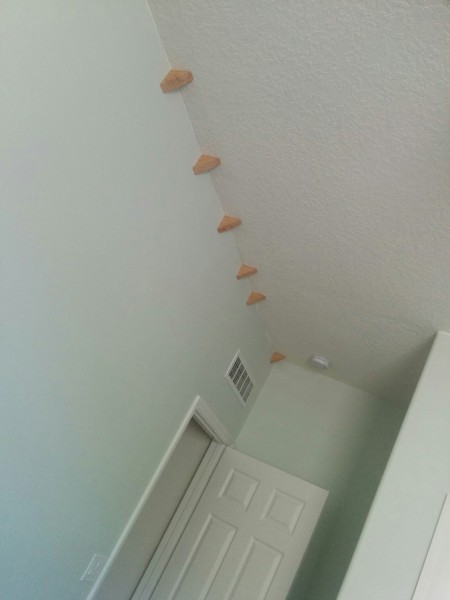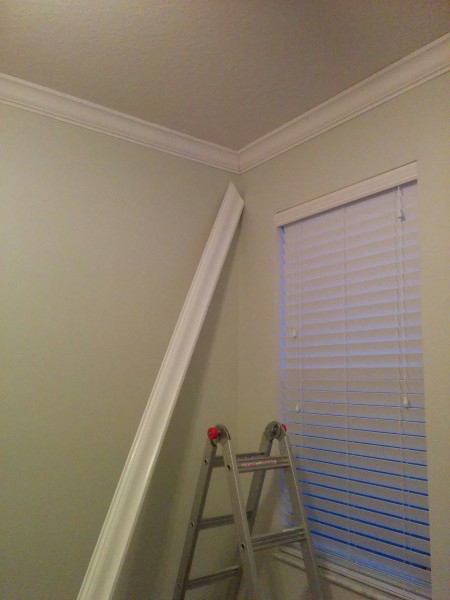 The rounded corner was very challenging, but he eventually got it!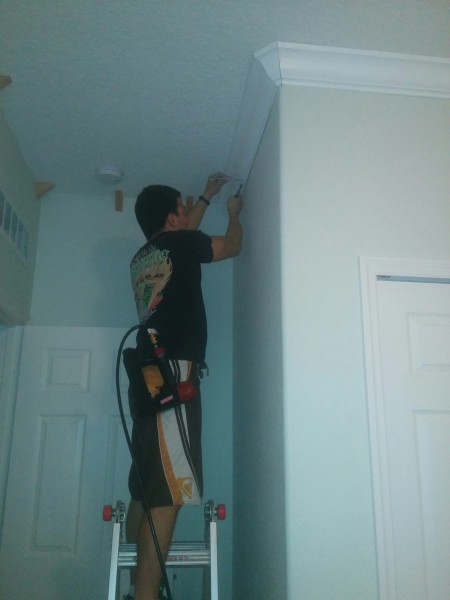 Here we are the room painted, crown molding complete. I was about 26 weeks here.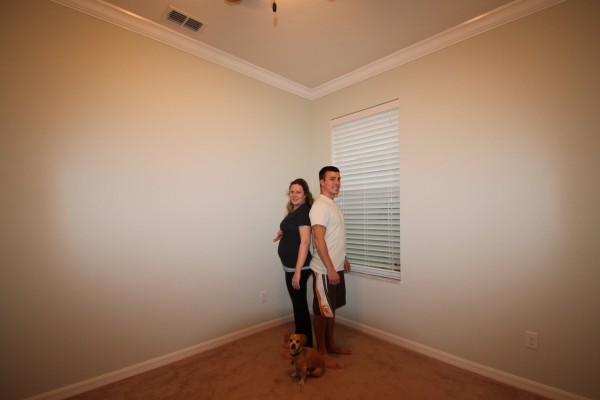 We searched high and low for a white dresser. We came up with this dresser from Ikea. We did not want to spend $1000 on just the dresser. So this one worked out really well for us. (For those wondering, yes, all of our furniture in the house is anchored to the wall.) Highly recommend the kit "Mommy Helper Tip Resistant Furniture Safety Brackets" and for the tv's located throughout the house, we used this product, TV Safety Strap.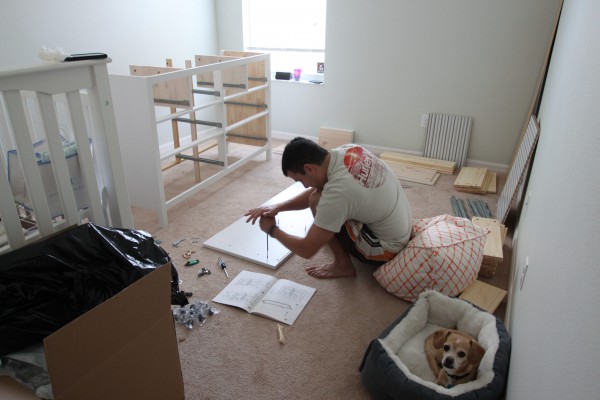 and so was putting Kona in the dresser. This dresser came with dark knobs, I personally did not feel like it went well with the calming nursery vibes. So my husband found some really nice marble knobs and we replaced them. I think it gives the dresser a nicer feel. Plus, its a little more unique.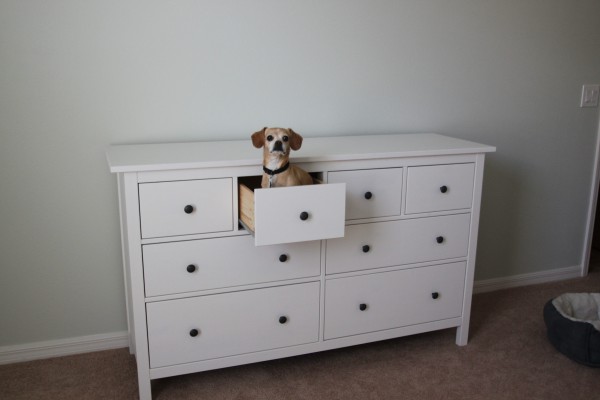 We decided to tackle the window casing in this room as well. We already completed 6 other windows in the house. We decided to tackle  a week before my baby shower. Talk about stress! The Hubby got everything done plus his office! We currently have about 4 more windows in the house left to case.
Other than deciding to complete the window casing last minute the nursery was completed by mid July. There was so much do! The hubby did all the hard work and I did all the pretty stuff, together we make a great team!
This is the "Rowan" bedding that I was previously talking about, its so perfect for the gender neutral theme of ABC's and jungle animals that have been incorporated into the mix.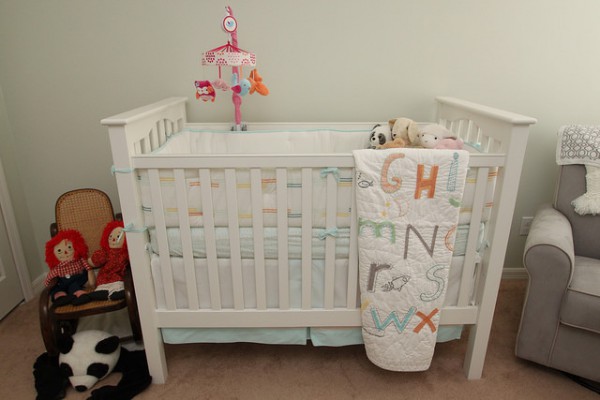 Check out the little rocking chair next to the crib, that was in my room as a baby. Raggedy Ann and Andy were handmade by my Aunt and hold a special place in my heart, I am so happy I could pass something down to my daughter that was so special to me.
Here they are in 1983 in my nursery, Raggedy Ann appears to be missing her apron, but that's OK. Crazy to think these two were in two nurseries 32 years apart and it appears both nurseries were "jungle themed."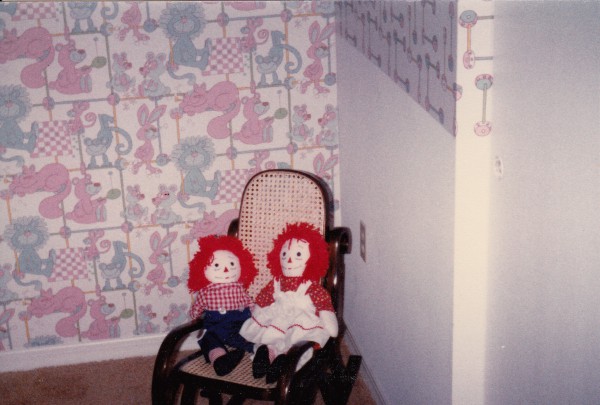 Here is the rest of the Nursery, I finally got around to taking pictures after 3 months! Its such a calm, peaceful room, I love how it all turned out.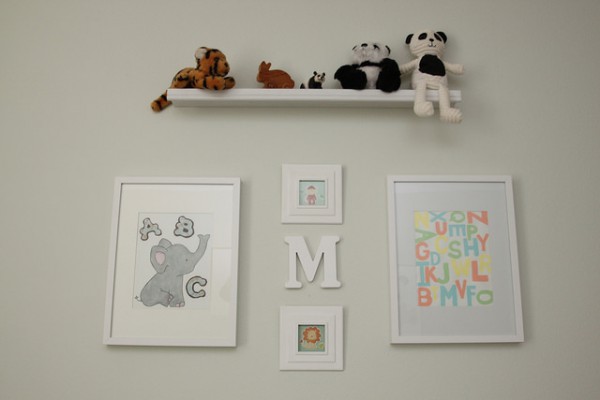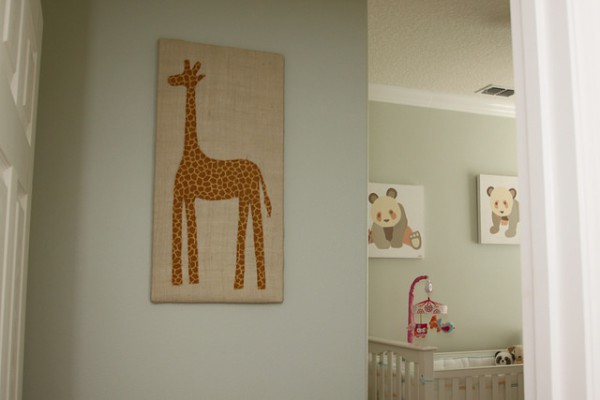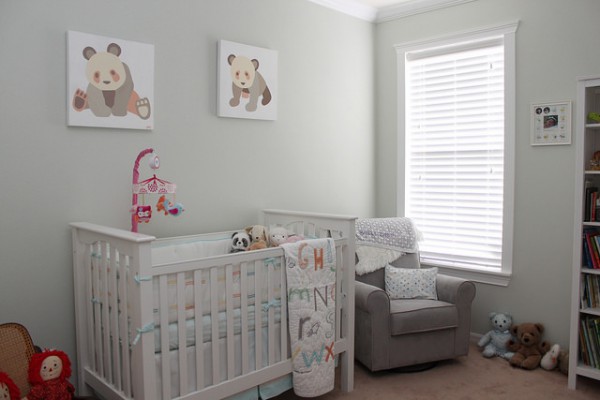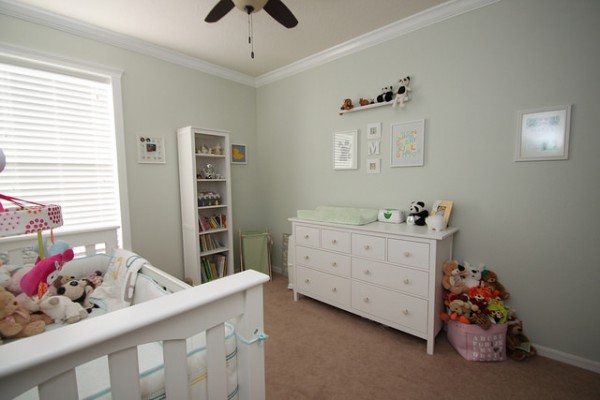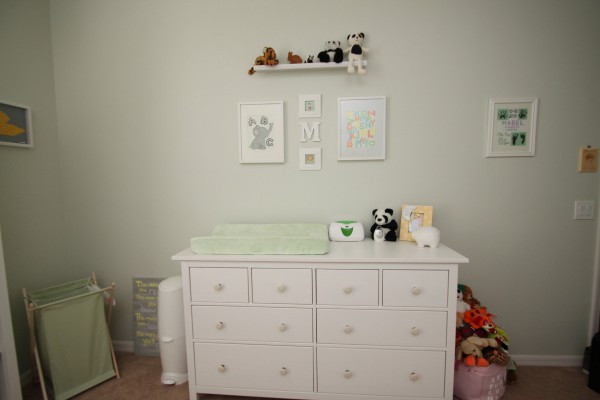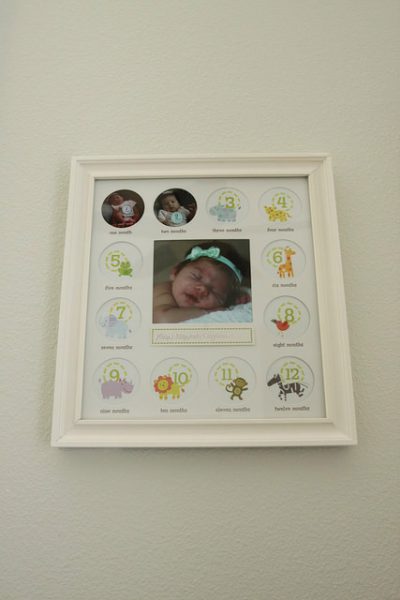 Here is a gift from Grandma, if only Mommy could keep up with the monthly pictures!
Here are the panda painting that I made months ago. They are the only things on the nursery's main wall. Surprisingly they complete it.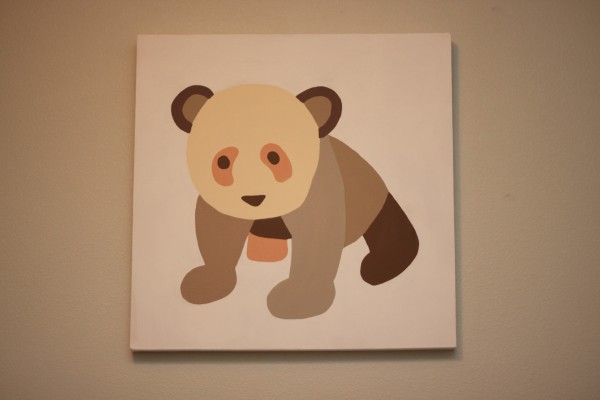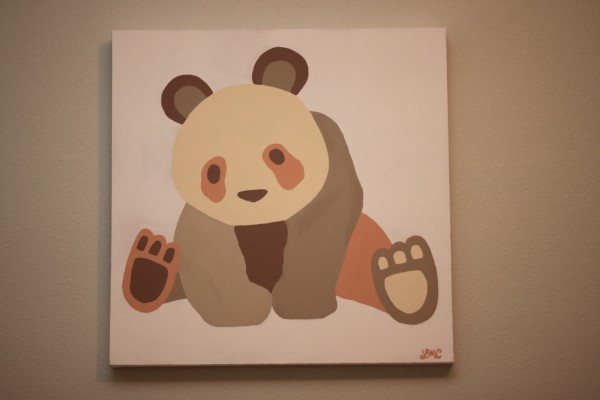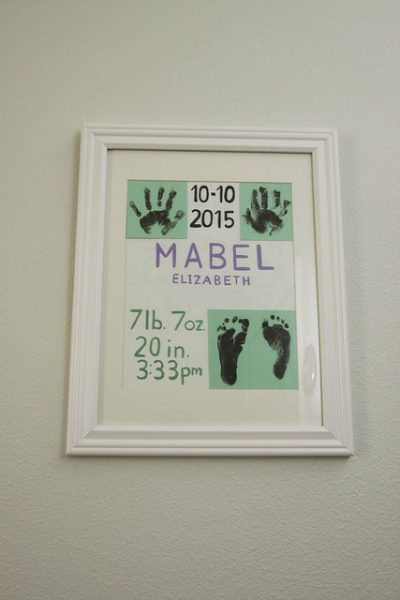 I made this, of course I got the idea from pinterest.
2 weeks before Baby:
My intention was to publish the nursery blog 2 weeks before my due date but since our little one came early that delayed it quite a bit!
Our baby's going home outfits are all ready, I crocheted a boy and girl hat for the special occasion. We have selected 2 of my husbands baby sweaters from when he was a little one (handmade by his grandmother) along with my receiving blanket that I came home in. I love all the handmade old items!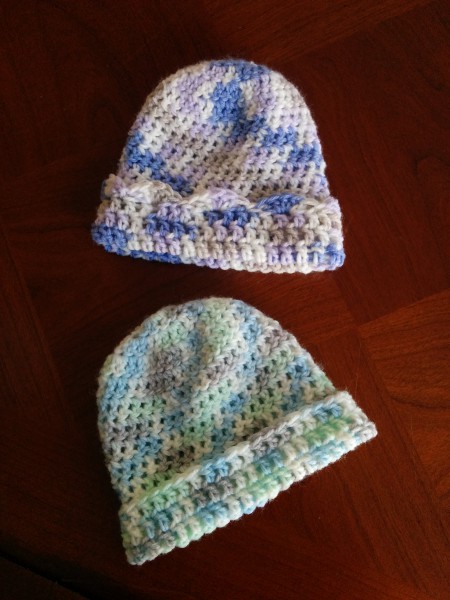 Thank you all for showing our little one with much LOVE and gifts. Our shower was beautiful and we are blessed to have so many wonderful people in our lives!